Colman Domingo Is Perfectly Mysterious in A24's Twisted Dark Comedy
The Big Picture
Colman Domingo delivers a captivating performance as the ruthless pimp in Zola, showcasing his ability to create an aura of mystique before revealing the character's true nature.
Domingo strikes the perfect balance between comedy and drama in Zola, adding humor to the film while also portraying the genuine danger and terror faced by the protagonist.
Domingo's nuanced performance in Zola leaves viewers questioning whether his character is truly despicable or a heightened version of someone the protagonist fears, fitting into the film's exploration of toxicity and self-interest.
It's great to see that Colman Domingo is receiving critical acclaim and "Oscar buzz" for his emotional performance as the heroic Civil Rights leader Bayard Rustin in the Netflix biopic Rustin because he's long been an underrated actor who has not gotten the credit that he deserves. Domingo is a very generous actor; he's someone who often helps boost the charisma of his co-stars in favor of stealing all the attention for himself. While this makes Domingo a valuable actor in ensemble features, it also means that some of his best work has fallen under the radar. However, that could not be said of his performance in Janicza Bravo's wild A24 comedy Zola. Domingo's performance as a unbalanced pimp encapsulates the wild, darkly amusing tone that makes the film work so well.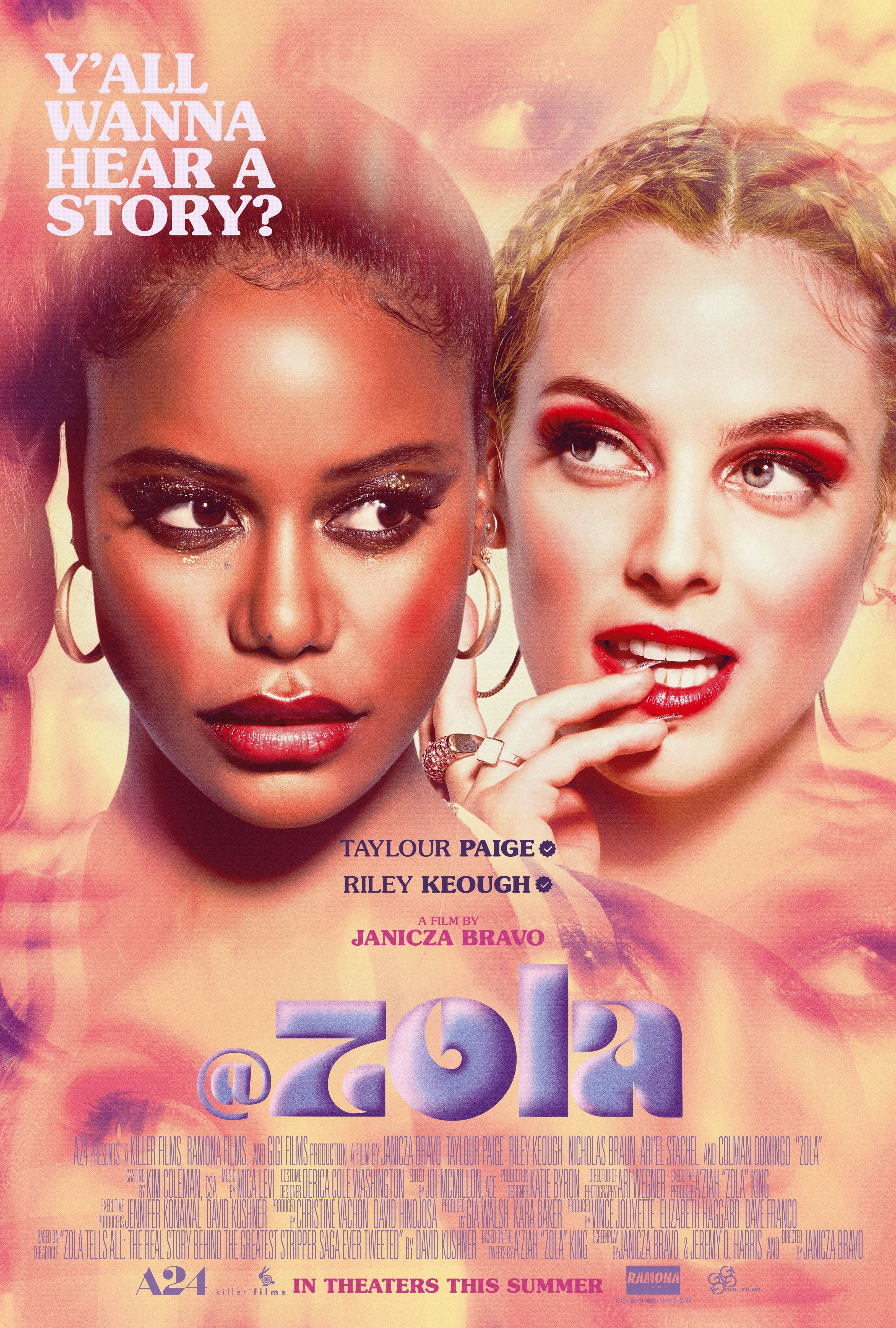 Zola
A stripper named Zola embarks on a wild road trip to Florida.
Release Date

June 30, 2021

Director

Janicza Bravo

Cast

Riley Keough, Nicholas Braun, Colman Domingo, Jason Mitchell, Harlan Drum, Taylour Paige

Runtime

90

Main Genre

Drama

Genres

Drama, Comedy

Writers

Janicza Bravo, Jeremy O. Harris, A'Ziah King, David Kushner

Tagline

You wanna hear a story about why me & this bitch here fell out?

Box Office

$5.2 million
Who Does Colman Domingo Play in 'Zola'?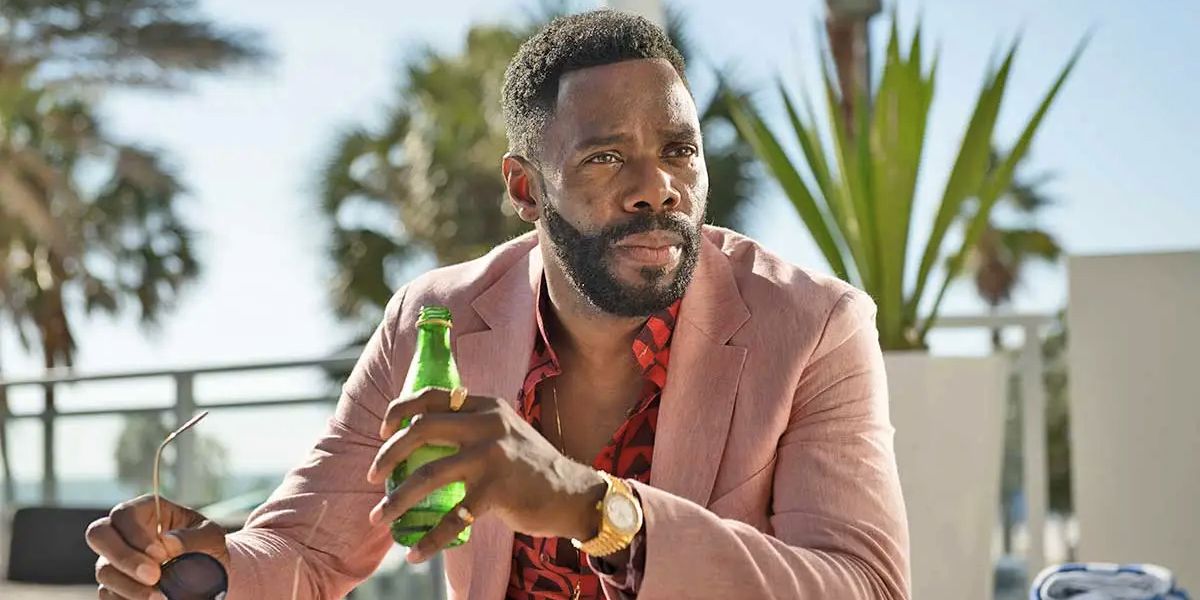 While there are many films that claim to be "based on true stories," Zola is based on a particularly wild Twitter thread that went viral in 2015. The film follows the young exotic dancer Zola (Taylour Paige), who gets caught up in a web of crime and deceit when she joins her fellow stripper Stefani (Riley Keough) and her boyfriend Derreck (Nicholas Braun) on a wild ride trip to Florida to earn a little extra cash. Although Zola has her doubts about Stefani from the beginning, she does not realize that her co-worker is involved in actual criminal activity. The details of Stefani's real intentions are made evident to Zola after they encounter her enigmatic roommate, known only as "X." The reason behind X's secret identity is soon revealed; he is Stefani's pimp and plans to sell her photos.
Domingo does a great job at building an aura of mystique around X before the truth is revealed. While X has some strange mannerisms, he's no weirder than any of the other strange characters that Stefani has been associated with. At first, nothing strikes Zola as odd about X at all. However, she soon begins to notice the difference in their personalities. Stefani is highly gregarious and could be accused of revealing way too much about herself at any given moment. Comparatively, X reveals very little about his work, or what his role is in the trip. This doesn't make sense to Zola; why would two characters who seem to have completely opposite personalities be friends? She soon learns that their relationship is a professional one and that X is only involved with Stefani in order to line his own pockets. Zola feels like a road trip from hell, with Domingo as the terrifying antagonist that is on the heroes' trail.
Colmon Domingo Is Both Scary and Funny in 'Zola'
Domingo's performance is very important, as Zola needed to strike the right tone between comedy and drama; it's a unique niche that A24 does very well. Stefani is a ridiculous character, and the shenanigans that she gets into with Zola are hard not to laugh at. However, the danger presented to Zola is real. At times, Stefani's lies put both of their lives on the line. It was critical for the film to show that Stefani's lies had a consequence, which X represents. Although Stefani can get away with lying to Zola, X isn't about to let her spin her wheels without paying up. Even if the film feels like a somewhat exaggerated version of reality (since it's based on a social media thread), there's never any doubt that Zola is genuinely terrified of what X will do.
Although Domingo succeeds at being completely intimidating when X's rage gets the better of him, he does add some humor to the film. Stefani can be such an obnoxious character that it becomes humorous when X tells her to be quiet and stop leading everyone else on; he voices something that both the audience and Zola may have been feeling. It's also amusing to see X completely demean Derreck and make him feel insecure. Any fan of Succession knows that Braun is great at playing awkward characters, but unlike Greg Roy, Derreck is a completely unlikable character. As a result, seeing X embarrass him in front of both Stefani and Zola actually gets pretty amusing.
Colman Domingo's Performance in 'Zola' Is More Nuanced Than You Think
Since Zola is based on just one particularly wild night in the main character's life, it doesn't always adhere to a standard depiction of reality. Zola has seen some sordid things in her life, but she's never experienced the sort of chaos that Stefani introduces her to. As a result, Zola's perception of events is somewhat stagnated; it's never quite clear how much of the film is from her perspective. It's suggested that some of the events in the film may be what Zola thought she saw based on the limited understanding that she had of what was going on. Domingo's performance fits into this perfectly; it's never quite clear if he is just a truly despicable person or a heightened version of someone that Zola is afraid of.
Zola is a film about both obvious and latent toxicity. Zola becomes exposed to a scary side of the world where characters only serve their own self-interests. The toxicity between Derreck and Stefani is more nuanced; Stefani is guilty of mimicking black culture, and Derreck stigmatizes all the women in his life. Compared to these two, X's toxicity is much more obvious. He's mean, sexist, and has an unhinged aptitude for violence. This actually presented a different type of challenge for Domingo. He had to be completely ruthless when his co-stars were doing more subtle work.
Zola was unfortunately slept on by the Oscars, but it succeeded in showing a different side of Domingo's personality. It's shocking to see how menacing Domingo is in the film in comparison to how warmhearted and compassionate his performances were in If Beale Street Could Talk, Ma Rainey's Black Bottom, and Selma. Domingo's performance as a real-life hero in Rustin is all the more impressive since he has already proven that he has a dark side.
Zola is available to rent or purchase on Apple TV.
Watch on Apple TV+
#Colman #Domingo #Perfectly #Mysterious #A24s #Twisted #Dark #Comedy