Creator Joel Hodgson On The Upcoming Mega Turkey Day Marathon Telethon
Summary
The Mystery Science Theater 3000 Turkey Day Marathon is returning for its 32nd year, this time titled The Mega Turkey Day Marathon Telethon, coinciding with a crowdfunding campaign for MST3K's 14th season.
The marathon will feature 24 hand-picked episodes that span the show's history, including surgically-enhanced versions of older episodes that have been converted to 1080p.
The fundraising goal for the campaign is set at $4.8 million and donations can be made on the Mystery Science Theater 3000 website. The marathon will conclude with the end of the fundraising campaign.
The iconic Mystery Science Theater 3000 Turkey Day Marathon returns this week, carrying on a long-standing tradition. The event first began in 1991, and will be celebrating its 32nd anniversary this year alongside MST3K's 35th. The show was recently revived through a fundraising campaign to produce its 13th season, starring comedians like Patton Oswalt, Felicia Day, and Jonah Ray alongside series creator Joel Hodgson.
For the first time, the event will be titled The Mega Turkey Day Marathon Telethon, as it will coincide with crowdfunding for MST3K's 14th season. The marathon will begin at 9am Eastern time on Thanksgiving Day, and will consist of 24 hand-picked episodes that span the series' long history, from "surgically-enhanced" versions of older episodes that have been converted to 1080p to highlights from recent years like The Christmas Dragon. The fundraising goal is set at 4.8 million, and donations to the campaign can be made on the Mystery Science Theater 3000 website.
Related: Felicia Day & Jonah Ray Interview: MST3K Season 13
Screen Rant interviewed Mystery Science Theater 3000 creator Joel Hodgson to discuss the annual marathon, the new fundraising campaign, and the history of the series.
Joel Hodgson Talks MST3K's Mega Turkey Day Marathon Telethon
Screen Rant: I know that this Turkey Day is going to be a mix of 24 new and classic episodes. What was the selection process like finding the perfect ones for the occasion? What can fans expect from the lineup?
Joel Hodgson: Well, we wanted to be alert to the ones we usually run, there's just fan favorites that have been perennials and we wanted to break some, because we're doing so many, we wanted to break out some fresh ones too, ones that people aren't as used to seeing.

We also have four or five surgically-enhanced, which is our up-res process. It takes them from the original 480p to 1080p, so they're just nicer to look at. We included some of those that we've been up-resing. I don't get that involved with it to be honest, because I can't really curate my own work. So we have other people that do it. I can't really speak to it, because my job is so much about making it and not so much keeping notes on which is the ones people really like. So I left that up to a couple of other people, namely Matt McGuinnis, who's one of our writer producers as well as Leslie Kinsell, who's our social media person, and also one of our writers.
And of course, Mystery Science Theater 3000 is celebrating its 35th anniversary this year, which is awesome, and it's also the 32nd anniversary of Turkey Day, if I am remembering correctly.
Joel Hodgson: Yeah, that's right. Very good.
Can you talk about how the very first one started and how you've seen it grow since then?
Joel Hodgson: Yeah. It was really interesting because this came from an ad sales executive at Comedy Central. His name was Tony Fox. And for us, we created the shows in Minneapolis, they were all made in Minneapolis, we were outside of these – you have to think about the world 35 years ago, and how it was so much about New York and LA. And we were really in the middle of nowhere making our show. But this was an idea that came from Comedy Central, came from an ad sales guy. He came up with the idea of Turkey Day, and he pitched it to us and we just loved it. We go, "Wow, we love it."

We were always pretty strict about stuff not coming in from the home office, but we really loved that idea, so we ran with it. And it just fit so good; it just was one of those perfect things for us is running MST. It seems like in some ways it's the antithesis of the Detroit Lions playing every year. [Laughs]
Yeah, I can see that. Looking back at all of the Thanksgiving marathons that have happened over the years, are there any that specifically stick out to you for any reason?
Joel Hodgson: Well, God, the thing that's mostly on my mind is we probably started 10 years ago bringing them back, and so I think of that. And the three that we did prior to our Kickstarter campaign that raised the money for season 11, the episodes that are on Netflix, I think it really primed the pump during those Turkey Days. It rallied people again and it came out of nowhere for people because they had about 10 or 12 years where there wasn't a Turkey Day marathon.

So getting to bring that back was really cool, and we've been doing them consistently for the last 10 years. So those are the ones I think about when there wasn't much definition – what does this mean that we're bringing it back? And looking back, it really primed the pump for us to do these almost 40 shows that we've done in the last seven years, including the live shows, the 20 episodes that are on Netflix, and the 13 that were in the Gizmoplex.
And there's also a new fundraising campaign going on right now for the 14th season of Mystery Science Theater. What can you tell me about that?
Joel Hodgson: Well, right now our goal is to get to six episodes, which is about a total of $4.8 million, and that's about half of what a episode of Star Trek costs. So we're going for that. I have a feeling we're, as of this time, we're getting close to halfway there or getting close to, I'm not doing the math very well, it's probably a third and a half. But we really need people – if this interests you, we want to encourage people to go to showmaker.mst3k.com, and of course watch the Turkey Day Marathon telethon, which is 48 hours and 24 episodes. And it'll also conclude with the end of our fundraiser as well. So as you count down, we'll get closer and closer to the end, and hopefully we'll make it.
And I know that this time the fundraising budget is a bit higher in order to create a better pay equity for the entire team, which is especially timely given the recent strikes.
Joel Hodgson: That's right. We had to do the budgets prior to the strike being resolved because we didn't know when the strike would be resolved. So the fees reflect those things in Screen Actors Guild and the Writers Guild, and also represent just a cost of living increase, 5% across the board for all our vendors, just because it's more expensive to make the show. I think that's the biggest reason for a price increase.
How do you think this new goal, and in turn the pay equity that will come through it, will help push the team forward? And what steps do you hope the industry in general can take from now on to achieve something similar?
Joel Hodgson: I don't know. That's out of my pay grade to have that kind of thinking. I can only speak to MST3K, and we always just – this is our third fundraiser and the proposition is really, if you want more shows, we'll make more shows. If the money's not there, we'll stop making shows. We already feel like we've made history bringing the brand back and doing all these episodes again when no one ever expected us to. I feel completely creatively sated at this point getting to do it, so everything else would be a wonderful benefit if we get to go further. But it's really just if the appetite's there. If not, there's not a lot of pressure, I wouldn't say it's – what was the thing they used to do for National Lampoon? "Buy this magazine or we'll kill this dog," [Laughs] they would do like that. This isn't one of those things.
And I know obviously season 14 itself, production hasn't started yet because the fundraising is not over. I know that the entire cast of season 13 has an open invitation to return. Have there been any talks about people who would plan to come back if the season does end up being made?
Joel Hodgson: Oh yeah. I mean, it's really too soon, it's been so complex with the Writers Guild, the Screen Actors Guild and all those things concurrently happening. So not much has moved forward. We really are leaving that up to – we clearly invited everyone back, so everyone knows that it's on if we have the good fortune of getting to do it. Everyone who was in the cast last season will be back.
And in terms of just creative visions or goals for this next possible season, are there any particular genres or creators or decades that you would love to explore next season?
Joel Hodgson: To us, it's about the world of the Gizmoplex, what happens next season and how it gets affected. So it became a character in the show, it's our own online theater that is also an in-world theater. And so we're really excited about that, want to explore that and see what can happen with it. But that's really like the universe is all around that area: Moon 13, what's Kinga and Max doing? What's Dr. Kabahl going to be doing? And there are a few characters from seasons 11 and 12 that we want to use as well and bring back.
Awesome. In terms of the episodes that are featured in this upcoming Turkey Day Marathon telethon, do you have any favorites?
Joel Hodgson: Oh geez. I feel like truly my emphasis is on the new episodes because we're so familiar with the old ones. So what you're seeing, the four that we've selected that you'll see will be the ones that I chose that I thought I really want you to see these. And I guess the biggest one for me was last year's Christmas Dragon, which was the season finale. And that included all our current hosts, which is Jonah, Emily, and myself, and we had had to solve a really big problem for the season finale. So that's going to conclude this year's Turkey Day Marathon as well. It's some of our best work I think, so I'm really enthused about it.
Awesome. And with this being such a longstanding tradition, it's definitely made its way as an event to a lot of families or groups of friends who are spending the holiday together, they also wind up spending their time watching this marathon each year. How does that feel for you guys to be ingrained into people's holiday traditions in that way?
Joel Hodgson: I love it. And as a kid who watched really a lot of TV, Thanksgiving is a big TV day when I was growing up, of course the parades in the morning. And then over time things like the Twilight Zone marathons started happening, and other cable channels, around when Mystery Science Theater started Turkey Day, that's when other cable channels started to do other marathons.

It just lends itself so well, I think because at Thanksgiving everyone's a little displaced to be together and everyone can drift out of the kitchen and then into the TV room and then back into the kitchen. And somehow in both places, there's a turkey cooking. I just put that together, I just made that up – I've got to remember that. [Laughs] But anyway, that's what I think about Thanksgiving. It really makes me happy that we're part of families getting together and watching TV. They're some of my favorite stories that I hear from Mystery Science Theater fans is their experiences with Turkey Day.
About The MST3K Mega Turkey Day Marathon Telethon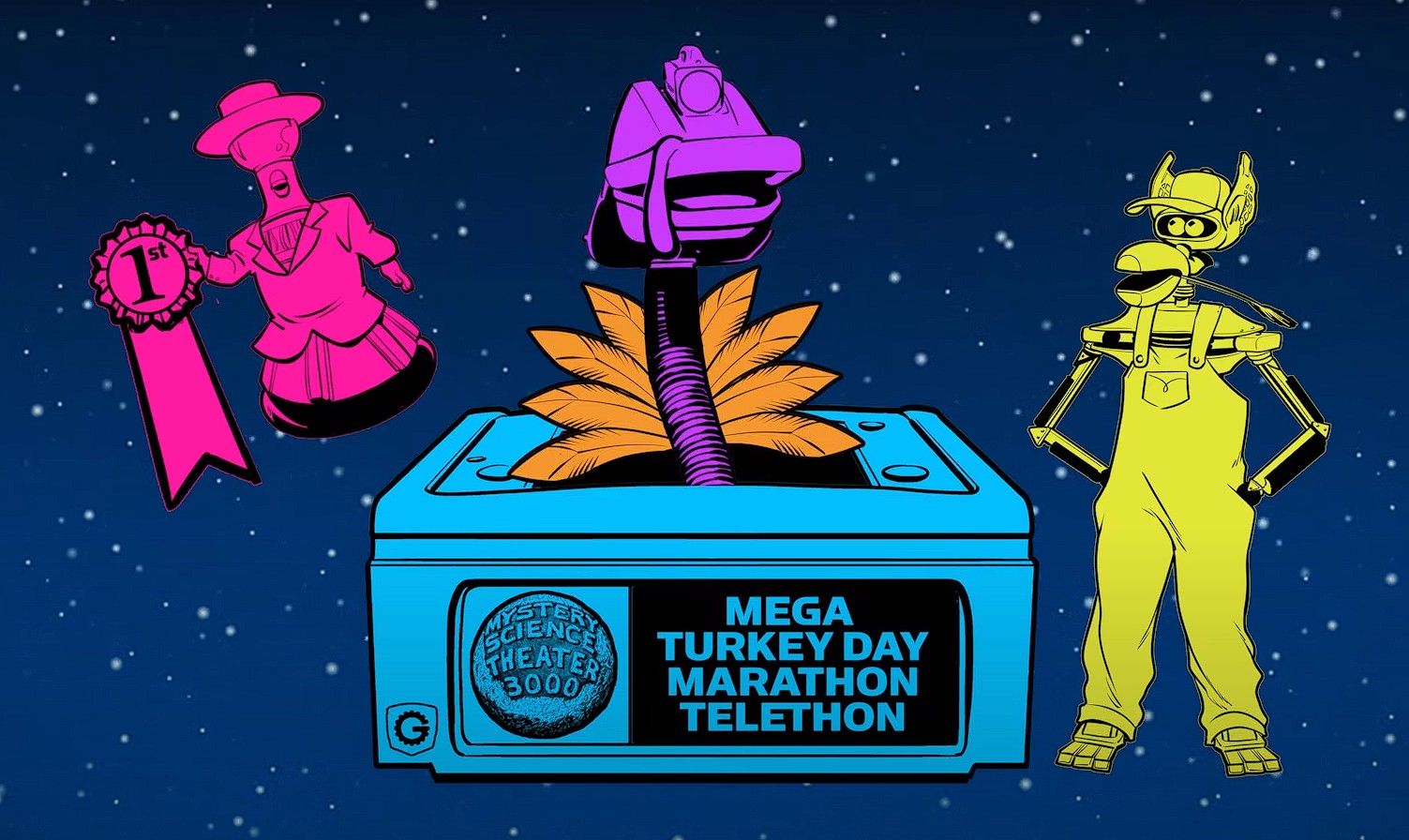 This Thanksgiving, fans of cheesy movies can rejoice with the return of the Mystery Science Theater 3000 Turkey Day Marathon! Continuing a three and a half decades-long movie-riffing tradition, this year features extra helpings of cinematic turkey, spilling some of its gravy into Black Friday and beyond for the first-ever Mega Turkey Day Marathon Telethon!
Premiering on Thanksgiving Day like the series itself did in 1988, The Mega Turkey Day Marathon Telethon will showcase a whopping 24 classic MST3K episodes over the course of two days. The event begins at 9 am ET on Thursday, November 23rd and concludes Saturday, November 25th at 9 am ET in tandem with the conclusion of the MST3K Season 14 crowdfunding campaign. Will MST3K raise $4.8 million to produce a new season of episodes? You decide, by visiting Showmaker.MST3K.com. It's going to be bonkers in more ways than one!
The Mega Turkey Day Marathon Telethon is streaming on the Gizmoplex, the MST3K channel, and Shout! TV! Watch on Apple TV, Roku, and Amazon Fire via the Shout! TV app.
Download the app and navigate to the MST3K 24/7 channel to begin watching. You can also watch on the MST3K Twitch channel, MST3K YouTube channel, Pluto TV, Sling, Samsung, LG, Fubo, Vizio, and more!
Source: Screen Rant Plus
Mystery Science Theater 3000

Release Date:

1988-11-24

Cast:

Joel Hodgson

Genres:

Comedy

Seasons:

13

Story By:

Joel Hodgson

Writers:

Joel Hodgson

Network:

SyFy, Comedy Central

Streaming Service(s):

Netflix

Directors:

Joel Hodgson

Showrunner:

Joel Hodgson
#Creator #Joel #Hodgson #Upcoming #Mega #Turkey #Day #Marathon #Telethon