Dashing Through The Snow Ending Explained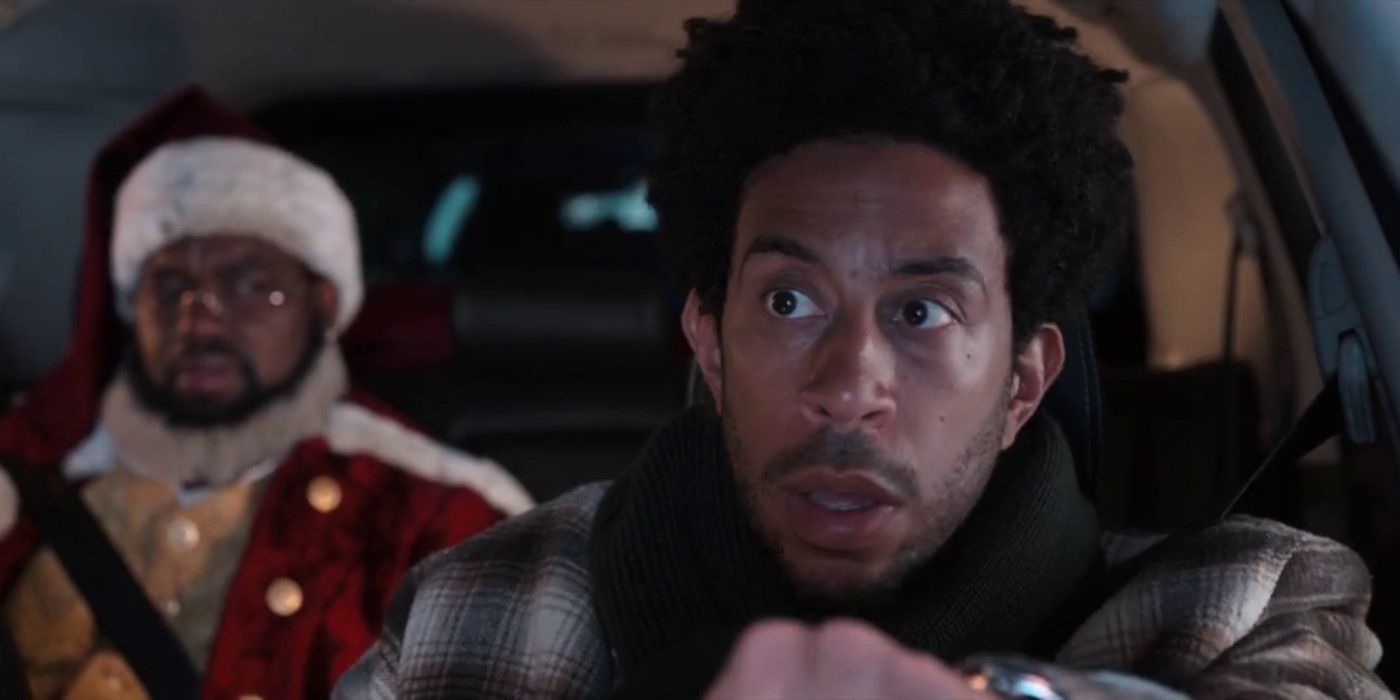 Summary
Eddie's lack of belief in Santa Claus is significant because it renders Santa's powers impotent and prevents him from using his magic.
Eddie's childhood trauma and his family's broken Christmas experience contribute to his disbelief in Santa and the holiday spirit.
Eddie finally regains his belief in Santa when he is reminded of the innocence of childhood through a letter he wrote to Santa as a child, allowing him to recognize Santa's abilities and restore his faith in the Christmas spirit.
At the end of Dashing Through the Snow, Santa gets his power back because Eddy learns to believe, and a congressman's bribery scheme is thwarted. Dashing Through the Snow is a Disney original Christmas movie released on Disney+ directed by Tim Story featuring performances from Lil Rel Howery, Chris 'Ludacris' Bridges, Tyonah Parris, Oscar Nuñez, and more.
Eddie Garrick's (Chris 'Ludacris' Bridges) family fell apart over Christmas when he was a kid, so he doesn't like the holiday anymore and he certainly doesn't believe in Santa Claus. When he meets Nick (Lil Rel Howery), Santa Claus himself, as he's being chased by a corrupt politician's henchmen, he tries to take him to the police for help, unintentionally signing himself and his daughter up for a Christmas adventure. Eddie and Charlotte (Madison Skye Validum) chase Nick around Atlanta as he tries to save Christmas, slowly uncovering Representative Conrad Harf's (Oscar Nuñez) bribery scheme, and restoring Eddie's belief in Santa Claus at the same time.
Related: 13 Best Disney Christmas Movies
What Was Conrad Harf's Plan?
The politician was collecting bribes and would have shut down the Moonlight Mission.
The first time Representative Contra Harf shows up is during a Christmas presentation at the Moonlight Mission shelter, giving the appearance of a benevolent politician, but it turns out he's running a corrupt pay-to-play scheme. Nick went to Harf's house early to deliver presents, believing the family was out of town in Florida, but he arrives in the middle of Harf discussing plans for his goons to collect bribes, including one from Mr. Marty Paseck who wants to acquire the land to build a tire store. The iPad has the names and addresses for all the bribes that need to be collected, and it accidentally got swapped with Nick's naughty-or-nice list.
As a result, Harf's enforcers spent the evening chasing down Nick to recover the list, and it wasn't until Eddie figured out the PIN code to access the iPad that he realized the extent of the scheme and had the evidence necessary for police to lock up Harf.
Why Couldn't Santa Use Magic Until Eddie Believed?
How is Eddie's lack of belief special or different from everyone else's?
Nick had already visited multiple houses before going to Eddie's neighbor's house, so his normal magic was working just fine; however, while Eddie was at his neighbor's cat, Pudding Foots, Nick got stuck in their chimney. Nick still has some of Santa's traditional skills and abilities, such as knowing who's naughty or nice and remembering what everyone wants for Christmas, and he even has some new abilities, such as the fact that he sweats glitter and his "farts smell like cinnamon," but he can't prove he's Santa by summoning his sleigh. When he visits Lucille (Zulay Henao) and Gerald (Kevin Connolly) he discovers his remote malfunctioned, but there's more to it than that.
Related: 12 Best Christmas Movies On Disney+, Ranked (According To Rotten Tomatoes)
After Gerald repairs the Reindeer Clicker and it still doesn't work, Nick says the real problem is Eddie doesn't believe. Numerous other characters in the movie don't believe in Santa, so what is it about Eddie's belief that renders Nick's powers impotent? One possibility is that Eddie is a problem simply because of his proximity to Eddie all night. Another reason could be that Eddie's unbelief is even greater than everyone else's because he doesn't just doubt Santa, but also rejects the entire Christmas season. It could also simply be the fact that Eddie is the main character, so it's important to tie his character arc to Santa's abilities.
What Made Eddie Finally Believe Again?
Nick didn't have Santa's flashiest tricks, but there was plenty of evidence before Eddie believed.
While Nick couldn't summon his reindeer, he still did other things that could have helped convince Eddie that he was Santa, such as his knowledge of everyone's Christmas wish-list, or memory of everyone's childhood gifts. The fact that he sweats glitter, while not traditionally a hallmark of Santa, is still borderline supernatural in a way that should shake Eddie's doubt at least a little bit. it's not until Lucille gives Eddie a copy of his childhood letter to Santa that he accepts Nick as the real deal and believes in Santa again.
Related: Which Disney+ Christmas Movie Should You Watch This Year, Based On Your Zodiac Sign?
For Nick to have a copy of the letter is part of the reason is certainly part of what convinced Eddie, although he'd already explained away similar abilities for other people. The letter was special not just because Nick was able to produce a copy of it, but because it reminded Eddie of what it felt like to believe as a child. While Santa wasn't able to bring his family back together for Christmas, reading the letter from his eight-year-old self reminded him of how to believe, allowing him to truly recognize Nick's abilities, and therefore enabling Nick to call his reindeer.
Ending and True Meaning Explained
Nick helps Eddie recover his childhood innocence and restore his faith in the Christmas spirit.
Dashing Through the Snow has all the typical Holiday themes of a traditional Christmas movie, but it also deals with the role of childhood trauma and anxiety, particularly associate with the holidays, and how it can ruin the holiday spirit for adults. Eddie grew up to become a counselor who believed the most important part of his job is to "never let someone who feels sad and alone keep on feeling sad and alone." For Eddie, those feelings of being sad and alone are directly related to his family splitting up on Christmas, which makes it hard for him to believe in Nick.
Eddie isn't the only one whose behavior is linked to their childhood Christmas experience either. Nick actually apologizes to Conrad Harf for not getting him an Action Arthur ninja doll when he was a boy, suggesting that disappointment was related to his villain origin story. Instead of giving Harf a lump of cauliflower, which Nick said was the new lump of coal for people on the naughty, he gave him an Action Arthur. The gesture doesn't erase the congressman's corruption, but maybe like Nick it can remind him of the innocence of childhood and help him recover his own belief so he can make amends for his crimes.
#Dashing #Snow #Explained