David Harbour, Erin Moriarty, Seth Green & More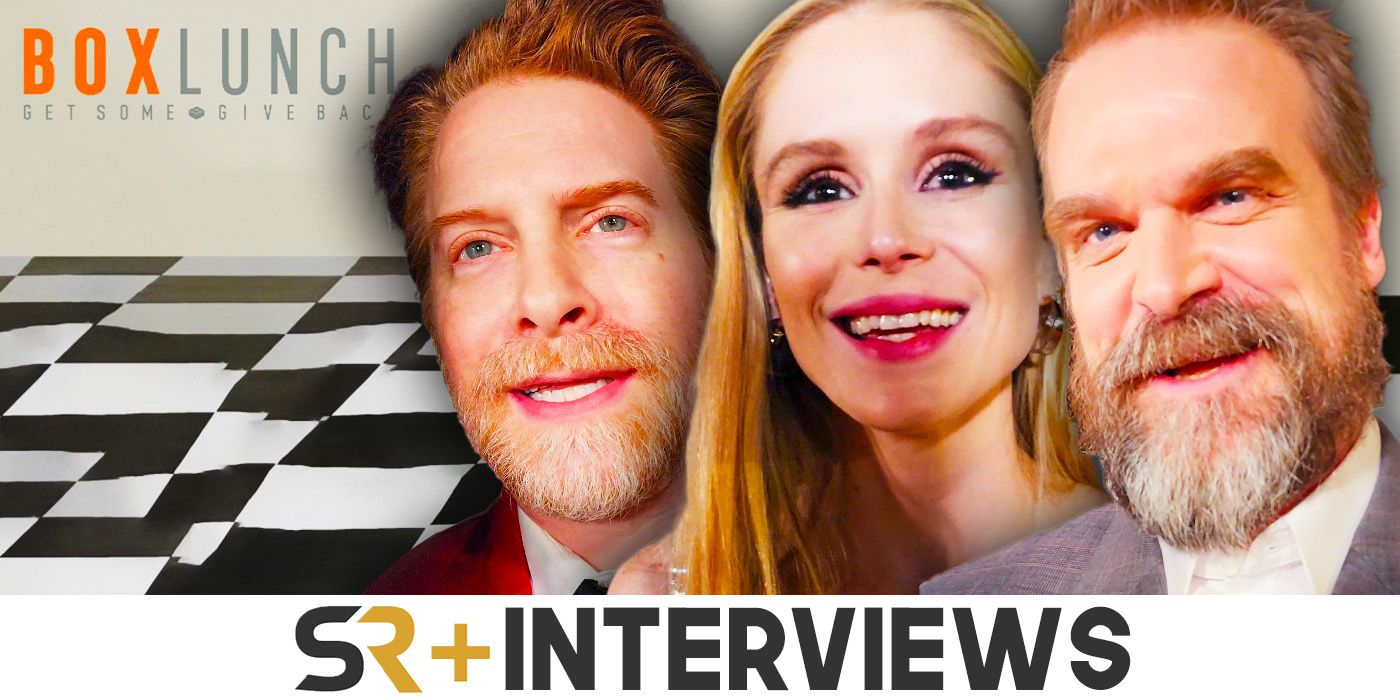 Summary
The BoxLunch Holiday Gala honored Feeding America and showcased the positive impact of philanthropy and community unity in fighting hunger.
BoxLunch's initiative donates a meal to a person in need for every $10 spent in-store or online, with 175 million meals donated so far.
Interviews at the gala revealed David Harbour's thoughts on the Red Guardian and Yelena's relationship in Marvel's Thunderbolts, Erin Moriarty's insights on Starlight's character development in The Boys, David Dastmalchian's interest in exploring Polka Dot Man's origin story, Seth Green's involvement in Matthew Lillard's Dungeons and Dragons series, and Bret Iwan's reflection on being part of Disney's legacy.
The BoxLunch Holiday Gala Honoring Feeding America was a celebration of the incredible strides made in philanthropy and a testament to the positive impact that can be achieved when communities unite for a common cause. BoxLunch's unique initiative is simple yet powerful: for every $10 spent in-store or online, the retailer provides a meal to a person in need. With 245+ stores nationwide, each location contributes to its local community food bank, impacting hunger relief efforts locally. In 2023, BoxLunch celebrated a milestone of 175 million meals donated to Feeding America.
On the BoxLunch Holiday Gala red carpet, Screen Rant interviewed David Harbour, Erin Moriarty, David Dastmalchian, Seth Green, and Bret Iwan.
David Harbour revealed what he would like to explore about the relationship between Red Guardian and Yelena Belova in Marvel's upcoming Thunderbolts, while Erin Moriarty discussed where Starlight fits in the world of The Boys now, and if she would like to appear in future seasons of Gen V.
David Dastmalchian spoke about what he would love to explore with Polka Dot Man's origin story in a film, and if he would like to develop his new comic book, Count Crowley, into a series. Seth Green chatted about Matthew Lillard's new Dungeons and Dragons series, Faster, Purple Worm! Kill! Kill!, and Bret Iwan discussed being a part of the Disney legacy.
Stars Share Their Stories On The BoxLunch Holiday Gala Red Carpet
Screen Rant: What are you most excited to explore about Red Guardian and Yelena's relationship in Thunderbolts?
David Harbour: Oh, wow, that's a great question. I don't know what they say in these press releases. It occurs after Black Widow, you know that right? So okay. So they have a lot of unexplored history. There's a lot of details that the director, Jake, has gone into the great care of what their life was like in the Midwest when they were doing all that spy stuff. And then, a lot of that comes up and really fun, interesting, beautiful ways, which, like in the Black Widow movie came up with that song, American Pie. And there's just a lot of complexity between me and Florence's character, which I love.

And also they're two people that… she can't stand, but she needs some because she's incomplete in a certain way that he may be able to help her with. I think that's always so beautiful. Because I feel like our relationships are always so… Sometimes we don't get to choose the people that complete us. The people that we really need. I think that they exemplify that in their own way. It will be fun to bring that to life in the movie.
Source: Screen Rant Plus
Screen Rant: What are you most excited to explore with Starlight now that she doesn't have to live a double life anymore?
Erin Moriarty: It's funny because I think that one might, rightfully, assume that because she's not living a double life, that's going to feel liberating to a degree where she needs a lot of clarity. Just her own identity. But I think more often than not, and this is where we have to all manage our expectations, just try and maintain the ability of human condition, to think once this is resolved, everything else will be. What I think the alleviation of that just brings forward things she was just taping to begin with, right. So once one thing is put away, another thing comes forward, potentially.

Part of the reason why I enjoy working on our show and this character is because it really isn't black and white. It really is very complicated. It's sad, it's exploring the complicated, gray, dark sides of our own psyches. Because I know that when I was younger, and I watched shows do that, it made me feel a little less lonely, you know? I think it would be that. I think would be the unexpected aspect of that, of the outcome, of no longer living the double life.
Screen Rant: Do you think she and Butcher will vie for leadership of the Boys?
Erin Moriarty: First of all, I think for her, it's not about leadership. Actually, that I do believe that. I think it's about taking whatever position she can, assessing it, and really trying to make sure that she's in a position where she can impart the most change, or make the biggest impact. I think that leadership component comes into play more so because, Butcher is trying to be the leader, Homelander is trying to be the leader. Right?

Those are the ones that are trying to be the leaders. I don't think she's trying to be just any of those leaders arbitrarily to be the leader, I think she is trying to assess who the rightful leader is, because that person has a trickle down effect. So I think, whether it would her, or someone else, I don't think it matters as long as she feels that it's right. I think that's a pretty integral part of her role, is that arbitrary leadership is not only not productive, but harmful.
Screen Rant: Would you like for her to step into Gen V and inspire the youngins?
Erin Moriarty: It's so wild to hear that concept of inspiring the youngins. But then again, the fun thing about playing Starlight is that she inspires me. These writers have written a character that has, in my mind, it's one thing to be enabled, it's another to be someone who has to actively overcome so much to transcend. So if she can exist in that world and inspire people just by being who she is, awesome, because she's done that for me. It's a very elaborate world, the opportunities are endless, and I have no idea, personally.

But I also know that it's a world where there's so many different pathways. Who knows, honestly, you never know what's gonna happen. But if I'm not in that world, I know that it'll be for good reason. They're very intentional with their choices. So I'm game. I'm game for whatever they decide.
Source: Screen Rant Plus
Screen Rant: Love Polka Dot Man. Would you ever do a prequel with him, and if so, what would you want to explore?
David Dastmalchian: James wrote such a beautifully tragic part for Abner and the story of his childhood working, not working, but being forced to be a part of the experiments. It is a beautiful, tragic story. So if James ever decided that he wanted to tell a story about what happened with those ill-fated siblings and their domineering mother at Star Labs, I think it sounds like a beautiful story.
Screen Rant: Congratulations on your comic book, Count Crowley. Is that something you would ever want to turn into a series?
David Dastmalchian: One thousand percent. I think it would actually make a really compelling live action series that feels, to me, somewhere tonely in the space of what we all love. A show like Glow. There's a sense of nostalgia and there's a sense of comedy and drama and really high stakes in the human condition, combined with what we always loved about watching Buffy and shows where you have a really kick ass badass heroine who's fighting monsters. So I dream about it often. And I think we can manifest.
Screen Rant: Do you have anyone in mind?
David Dastmalchian: I don't know who the Jerri would be. There's many actors who would destroy the role. Who would be so good at it. But I certainly hope I get to play a vampire.
Source: Screen Rant Plus
Screen Rant: What does it mean to you, being a part of Disney's legacy?
Bret Iwan: Oh gosh, what does it mean to me? I can't help but think back to what Walt and Roy were doing back in 1923, and how much Walt's curiosity kind of fostered innovations, that journey, and the adventure that he ultimately went on in creating the Walt Disney company. So to me, it really represents the inspiration and curiosity. I'm always inspired to learn and try new things, and I often think about that trait that Walt Disney had.

I've done a lot of reflecting on what the company has achieved over the years, and thinking what's going to come. I had the honor of painting Mickey's official 95th portrait this year. When doing so I wanted to represent Mickey celebrating the moment. 95 is a big deal, but he's turning 95 in the midst of an even bigger celebration. So little milestones like that have happened throughout this celebration, and have me stepping back and going, "Wow, I get to be a part of this right now."
Screen Rant: Do you still have pinch-me moments?
Bret Iwan: Everyday. Everyday. Absolutely.
Source: Screen Rant Plus
Screen Rant: Would you consider joining Slayers for a season 2?
Seth Green: Yeah, I already told them I would do it. I actually accidentally wandered in, I was recording something when they were recording something, and I didn't know we were gonna have a reunion. The people at the desk were like Amber Benson's in there, so I walked in and it was everybody. It was hilarous.
Screen Rant: How did you get involved with Matthew Lillard's D&D series?
Seth Green: Obviously, Matt Lillard and I are deeply in love. We have been for years. More than a decade. And he knows I like D&D stuff and he's doing D&D stuff. I don't know if you realize, but all the stuff that we loved when we were kids, and got our asses beat for loving, are now incredibly popular. So it's kind of fun, not in an I told you so way, but in a like, oh, everybody figured out how much fun this is way.
Source: Screen Rant Plus
#David #Harbour #Erin #Moriarty #Seth #Green