How to learn American Sign Language (ASL) in Windows 11?
We all communicate through words, either by speaking or writing. Very rarely, we use nods, or some simple hand signs to communicate. Unfortunately, there are deaf people in the world who cannot hear what another person says. To communicate with them and let them know everything, there needs to be a language, which everyone who deals with them needs to learn. In this guide, we show you how to learn American Sign Language (ASL) in Windows 11.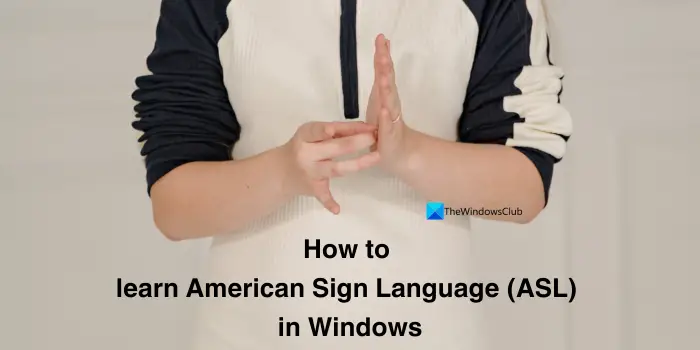 What is American Sign Language (ASL)?
American Sign Language (ASL) is a complete language that uses visual-gestural-kinesthetic communication patterns to convey the meaning instead of speaking words. It is the primary language of many deaf individuals in the United States and Canada. ASL is a distinct language with grammar and syntax.
ASL is the fourth most commonly used language in the US which has a history that dates back to the early 19th century. It has many regional variations and dialects with variations in signs and expressions. ASL is considered to be a part of the Deaf culture and people who use ASL as the primary language share a cultural identity and a sense of community.
Let's see how we can learn American Sign Language (ASL) on our PC.
How to learn American Sign Language (ASL) in Windows 11?
There are a few ways you can use to learn American Sign Language (ASL) in Windows 11. They are:
ASL Apps
ASL courses and websites
YouTube Tutorials
Online communities
Practice using webcam
Let's get into the details of each method to learn ASL.
1] ASL Apps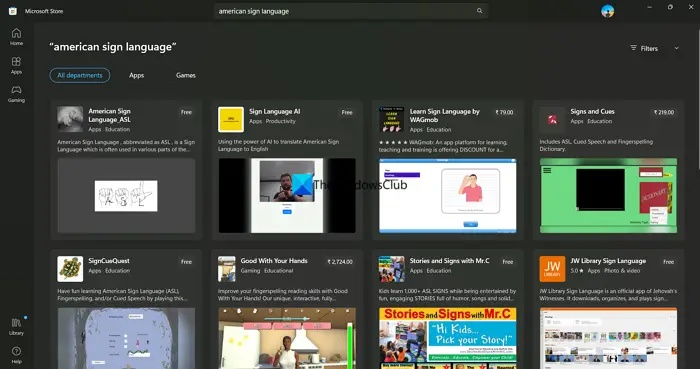 There are many apps available on Microsoft Store that can help you learn the American Sign Language (ASL). You can search for American Sign Language in the search bar of the Microsoft Store to find them. Click on the app to learn more details about it and install something that you find suitable after knowing the details. Installing apps from the Microsoft Store is safer than installing from third-party sources. You don't need to worry about safety that much.
2] ASL courses and websites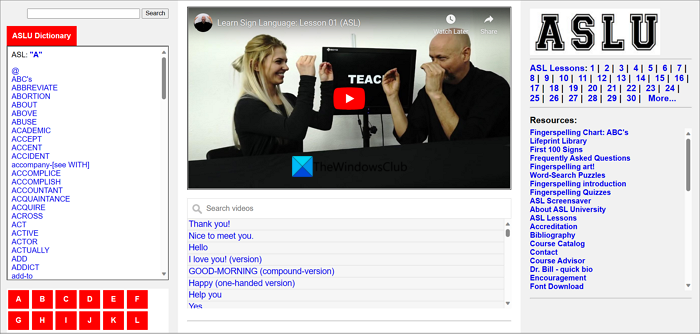 Websites that offer free and paid courses to learn ASL are abundant on the internet. You can learn sign language with the free courses itself. LifePrint is a great choice for a free website to learn ASL without any nonsense or distracting UI. You can just head to LifePrint and start learning ASL without even signing in. You see a text description of each lesson as well as a demonstrative video so that you can understand the lesson better. LifePrint calls itself ASL University or ASLU with free self-study materials and formal tuition-based courses.
3] YouTube Tutorials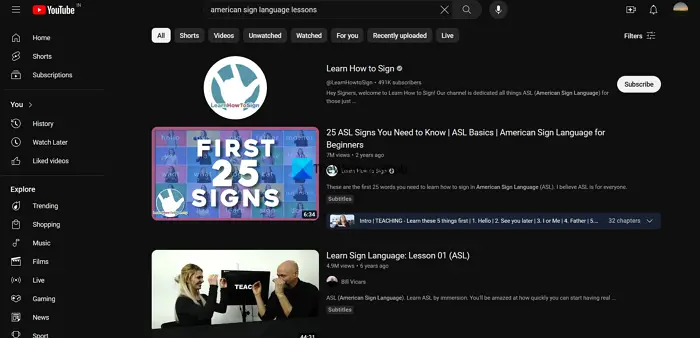 YouTube is a great choice to learn anything. We can find tutorials on almost everything. Learning ASL on YouTube is simple. Just head on to YouTube and search for American Sign Language lessons and you will find plenty. Choose something that suits your learning pace and learn the sign language.
TIP: Do subscribe to TheWindowsClub Youtube Channel to find videos of our guides.
4] Online communities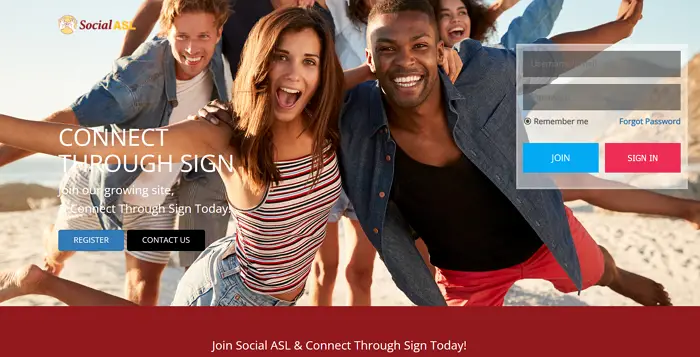 Communities provide a platform to interact with others. When you are learning American Sign Language or improving your understanding of the language, joining ASL communities like SocialASL, Reddit ASL communities, Facebook groups, etc. is a great choice. You can use the signs to interact with others in the community thereby improving your sign language.
5] Practice using webcam
Practice makes you good at anything. Learning ASL is one thing, but practicing it is what makes language learning more fun. You need to be able to make your signs correct to communicate clearly. Practicing using a webcam helps you record your signs, watch them, and find the mistakes to correct. Over time, you can find the improvements in your signs in the process.
Also read: Best way to learn a language online fast free
Which sign language should I learn first?
There are more than 300 different sign languages around the world. The sign language and its syntax differs with country like the spoken language. So, it is better to learn the sign language that suits your country or the country where you want to use the sign language to communicate.
How do you make a signer in Microsoft Teams?
Signers in Microsoft Teams are interpreters of the spoken language in the sign language. To make a signer, first enable the Sign Language in the Accessibility settings of Teams. Once, you have enabled it, you can select People, and find the person you want to make a signer. Then, click on the three-dot button for more options, and select Make a signer.
Related read: Learn foreign languages while watching Netflix using Mate
#learn #American #Sign #Language #ASL #Windows