Is 'Animal House' Based on a True Story?
The Big Picture
Animal House is based on a culmination of real-life stories and experiences, although not on one single account.
The characters in Animal House are not based on historical figures, but rather pulled from the real-life experiences of the filmmakers, particularly screenwriter Chris Miller.
The production of Animal House was characterized by a fun and party-filled atmosphere, with the cast and crew bonding and engaging in wild antics both on and off set.
While we all know Animal House as one of the wildest and funniest comedies of its generation, most people are not aware of the fact that John Landis' classic film is actually based on reality. Well, somewhat based on reality. This classic raunchy chronicle of the Deltas vs the Omegas is the culmination of many different real-life stories, as opposed to one single account. As hard as it might be to believe, parties, rivalries, and academics have all helped shape National Lampoon's flagship movie into the sensation that it is. But who actually experienced these gonzo escapades of ragers and slobs? Was Delta Tau Chi a real fraternity, and was Bluto (John Belushi) a real Greek God? According to Entertainment Weekly, the answer is yes… and no.
If you're a fan of comedies, you're likely a fan of Animal House. Few things are more fun than watching the bum frat brothers of Delta Tau Chi sabotage and out-party the haughty, prestigious guys over at Omega Theta Pi. This crew of misfits are some of the most disgusting, wild, and hilarious band of comedic protagonists that have ever been put on screen. But are these shlubs based on historical figures? Well, the answer is complicated. Guys like Bluto, Otter (Tim Matheson), Boon (Peter Riegert), and the rest of the gang aren't actually names that you can dig up in the alma matter of any college or Greek life yearbooks. Instead, their stories are pulled from the actual accounts of the filmmakers behind Animal House, particularly the Greek life experiences of screenwriter Chris Miller. Given the kind of movie that this is, the set was also bound to be a massive party at all times. These experiences also fed into the movie, both in its vibe and in certain events. Everyone involved knew they were having a fun time making this movie, but no one could have guessed that their on-set parties would have led to a smash hit.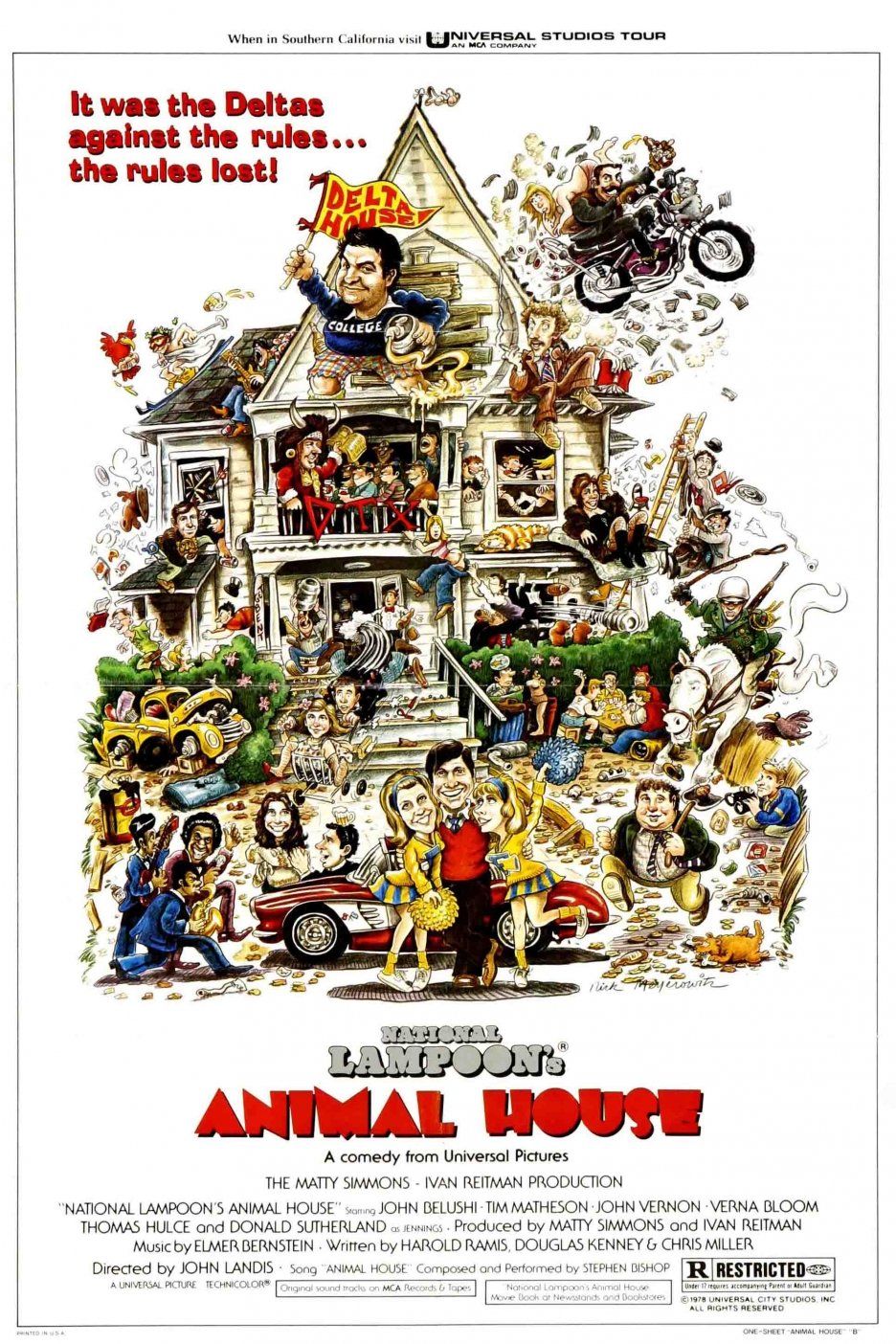 Animal House
At a 1962 college, Dean Vernon Wormer is determined to expel the entire Delta Tau Chi Fraternity, but those troublemakers have other plans for him.
Release Date

July 27, 1978

Director

John Landis

Cast

Tom Hulce, stephen furst, Mark Metcalf, Mary Louise Weller, Martha Smith, James Daughton

Rating

R

Main Genre

Comedy
'Animal House' Had a Long History of Re-Writes
Before becoming a blockbuster sensation, Animal House's filmmakers had a lot of work to get done. Chris Miller was a writer at National Lampoon magazine, a publication that producer Ivan Reitman was a huge fan of. Reitman called up National Lampoon's Matty Simmons with the proposition of teaming up and making movies. With that idea being put into play, they went to Harold Ramis to start getting ideas onto the page. Ramis initially tried to write something less cerebral than National Lampoon was used to, and ended up with a treatment called Freshman Year. After that screenplay received a middling reception, the idea pivoted to take place in high school. That version also didn't work!
What Is 'Animal House' Based On?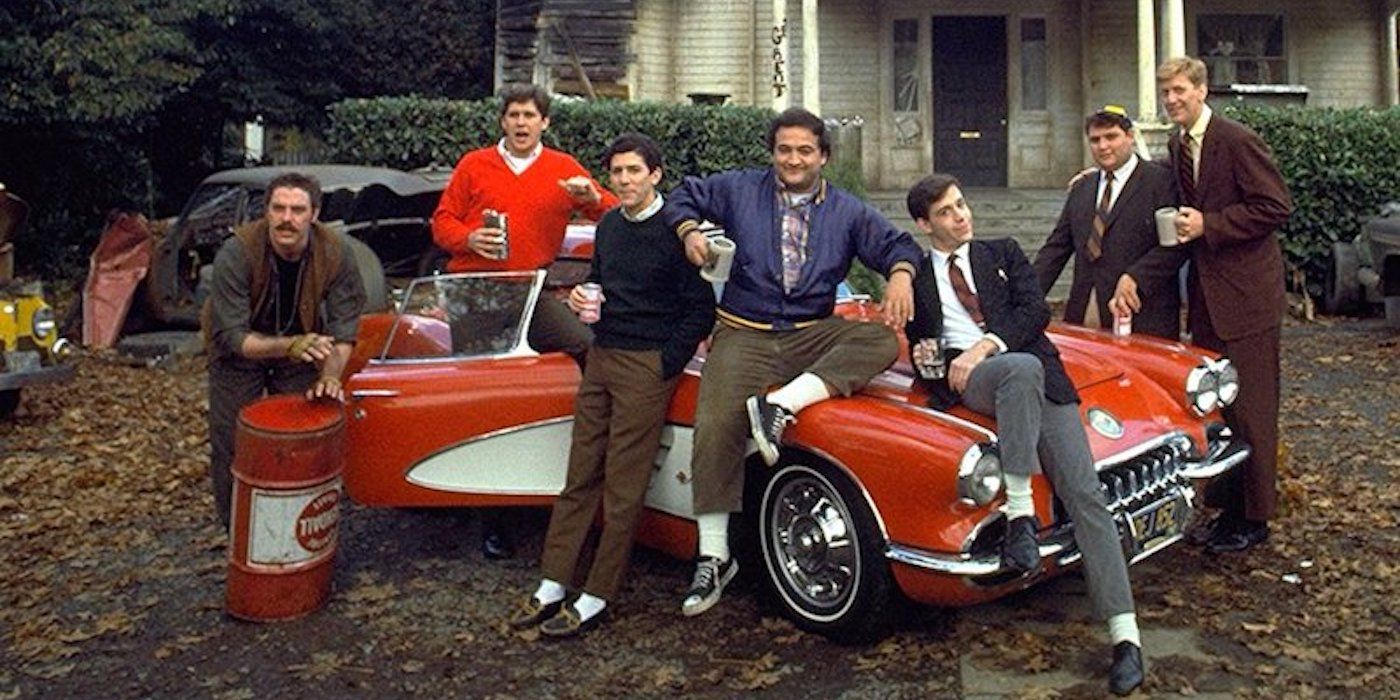 After two misses, Ramis opened up the writers' room to Chris Miller with the intention that he would use some of his fraternity stories that he had penned for the Lampoon. These weren't entirely fictional stories — they were based on Miller's own experiences while in school at Dartmouth College, when he was a brother in the Alpha Delta Phi frat. In college, Miller went by "Pinto" and had written a story called "Pinto's First Lay," so he used this as his jumping-off point. Miller's Alpha Delta Phi chapter has been described by many as a "vomiting cult" that would purposefully eat certain kinds of food to make them throw up, so they used this status as a jumping off point for the type of frat that they would portray on screen. Universal didn't expect the movie to go down this gross-out direction, but they also didn't expect Animal House to be much of a hit, so they allowed things to move this way.
The Production of 'Animal House' Helped Set the Movie's Tone
From there, the ultimate creative team and a cast of comedians and party animals were almost assembled. Initially, Chevy Chase, Bill Murray, Dan Aykroyd, and John Belushi were envisioned to be the main cast members of the film. Unfortunately, all but Belushi would turn the project down due to differing interests and scheduling problems. Instead, Tim Matheson, Peter Riegert, Douglas Kenney, and even Chris Miller would play a few of the brothers in Delta Tau Chi. Ivan Reitman wanted to direct but didn't have much of a track record, so they ended up bringing on John Landis. At this point in time, Landis wasn't exactly the big-name director that he would end up becoming, but he had two features under his belt. His second film, Kentucky Fried Movie, wouldn't be released until Animal House already started filming, but the future comedy hit would be seen by folks at Universal, so he was brought on to direct. It was Landis who pushed for dramatic actors to fill out the cast, as opposed to simply hiring comedians. The Kentucky Fried filmmaker would also be the anchor for the cast, keeping everyone from partying too hard when they got on set.
After being turned down by countless colleges, Animal House would eventually be set to film at the University of Oregon. A large chunk of the cast and crew would fly up there early to bond, rehearse, and make their chemistry stronger, an effort that Hoov's actor, James Widdoes, described to Entertainment Weekly as being "like freshman orientation." Everyone began referring to each other as their character names, they would graffiti the Delta house that week, and they would even assign living situations to reflect those in the film.
Most importantly, some of the cast members were invited by students to a frat party at the University of Oregon. The party was hosted by the school's SAE chapter, one of the wealthier groups on campus. As they were leaving, James Widdoes threw some beer on a couple of angry football players, and a massive fight broke out. This wasn't just a little physical altercation — this saw people getting thrown, punched, beaten, Bruce McGill got a black eye, and even some of Widdoes' teeth got knocked in. Even though this wasn't a fight between the fictional fraternities' cast members, this surely set the tone for a rivalry between the Delta's actors and any prestigious Greek life members.
The rest of rehearsal would see loads of parties taking place down at McGill's hotel room, where he would play piano and everyone would go nuts regularly. Landis would often crash these parties to keep his cast from going too wild but never put a stop to them completely. In that same Entertainment Weekly interview, Kevin Bacon recalls that the vibe behind the scenes was "very much like it was in the movie." You'd expect John Belushi to have been the life of all of these parties, but he was allegedly kept away because of his reputation at events like these. Landis recalls that Belushi wasn't the wild man that he would be by the time they shot The Blues Brothers. Instead, he saw the film as a huge opportunity, so he wanted to be clean for the production. He might have played the movie's biggest partier, but during production, Belushi was one of the most laid-back people on set.
So while Animal House isn't exactly "based on a true story," Delta Tau Chi's legacy is pulled from a sea of real life experiences, both in actual fraternities and the way the filmmakers and actors behaved during production. It's undeniable that the fun they were having on set can be felt on screen, and is one of the surefire reasons that this movie has gone on to be one of the most beloved comedies of all time.
Animal House is available to stream on AMC+ in the U.S.
Watch on AMC+
#Animal #House #Based #True #Story