OneDrive Error Code 2603, No Network Connection
In this post, we will see how to fix OneDrive error code 2603, No Network Connection. OneDrive has an auto sign-in feature that enables it to silently sign in to a work or school user account using the same credentials that were used to sign into Windows. However, this feature can malfunction sometimes and become a frustrating obstacle when you need to sync your data or files on the cloud with their local versions on your system.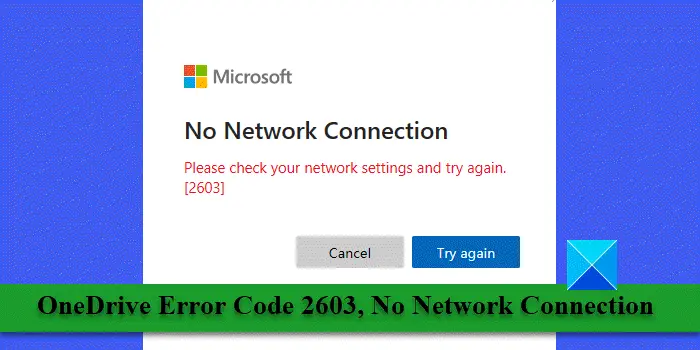 Error code 2603 occurs when OneDrive fails to log you into your account when you start your Windows PC. When triggered, it shows the following error message:
No Network Connection

Please check your network settings and try again. [2603]
The error may sometimes arise from error code 0x8004e4c3, which is also related to your network or communication between your system and OneDrive servers. In this post, we will show you some steps to troubleshoot and resolve OneDrive error code 2603 on a Windows 11/10 PC.
OneDrive Error Code 2603, No Network Connection
Before you begin troubleshooting, make sure you have an active internet connection and you're signed into Windows using a Microsoft account, not a local account. Then quit OneDrive using the system tray icon, restart the app, and see if it logs you in automatically. Also if you've set up a proxy service (like VPN), turn it off once and see if it helps fix the issue.
If the above quick fixes won't work, use the following solutions to fix OneDrive Error Code 2603, no network connection:
Check OneDrive Server status.
Restore Advanced Network Settings.
Change Internet Options.
Use a different User Profile.
Reset the OneDrive app.
Let us see this in detail.
1] Check OneDrive Server status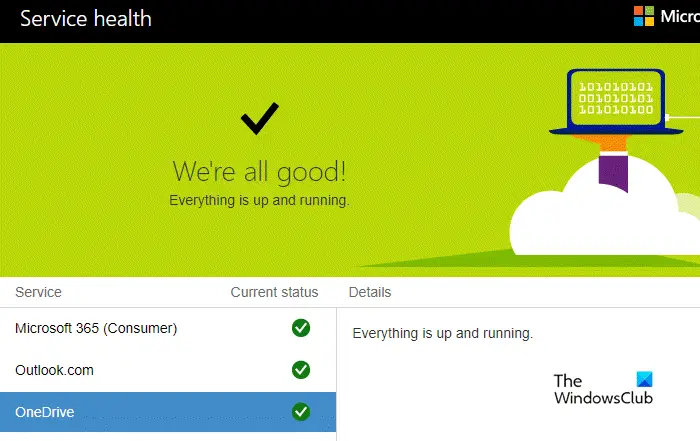 If your internet is working and you're not using a proxy, check the current status of OneDrive servers by visiting Microsoft's Office Portal Service Health page. A green checkmark next to OneDrive indicates everything is up and running, but a yellow or red exclamation mark indicates that the service is disrupted due to known issues, incidents, or planned maintenance. In that case, error code 2603 should resolve automatically in some time.
2] Restore Advanced Network Settings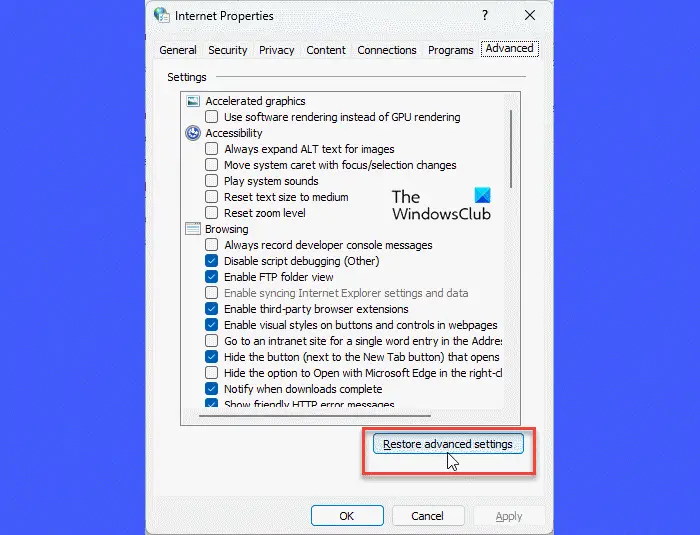 Since the error is related to a network glitch, resetting your network should do the trick.
Type 'control' in the Windows Search bar and select Control Panel from the search results. Within the Control Panel window, navigate to Network and Internet > Internet Options. The Internet Properties window will open up.
Switch to the Advanced tab in the Internet Properties window and click on the 'Restore advanced settings' button at the bottom.
To save the changes, click Apply and then OK. Next, restart OneDrive and see whether it can now backup your files without issue.
3] Change Internet Options
Another fix that has helped many users in resolving OneDrive Error Code 2603, is changing the TLC settings under Internet Options.
To do so, close the OneDrive app and all other Office apps. Then go to OneDrive > Network and Internet > Internet Options. Switch to the Advanced tab within the Internet Properties window. Scroll down to locate TLS settings under Security.
Activate/enable TLS 1.0, TLS 1.1, TLS 1.2, and TLS 1.3 by checking these options. Click Apply and then OK. Reboot your PC and see if the error is gone.
4] Use a different User Profile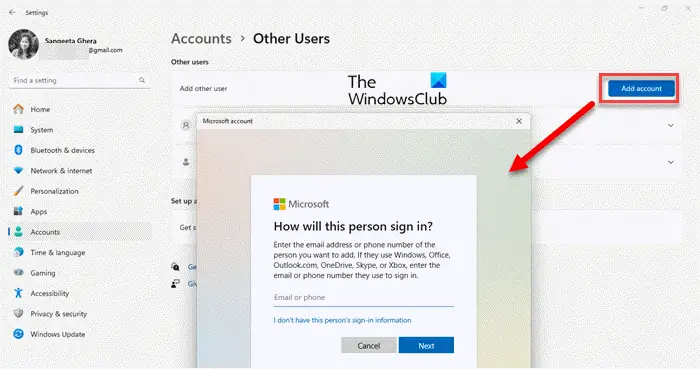 A corrupt user profile can also cause connection issues in the OneDrive client app. If that is the case, the issue can be resolved using a new user profile.
To create a new user profile or account, click on the Start button icon and go to Settings > Accounts. Navigate to the Account settings section and click on Other users. Then click on the Add account button next to the Add other user option. Follow the on-screen instructions to create a new Microsoft account using an email and a password.
Note: You can also create a Non-Microsoft account to login to Windows, but you need administrator privileges to use that account for OneDrive.
Once the account is created, log out from your current user profile and log back in using this new profile. See if OneDrive connects to the cloud automatically.
5] Reset the OneDrive app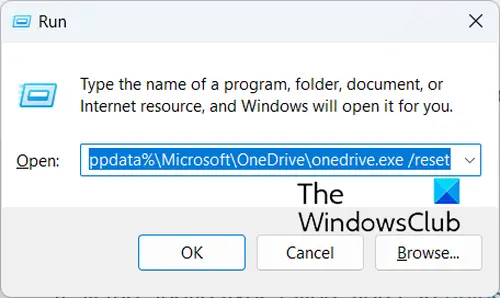 If none of the above solutions work, try resetting the OneDrive app on your Windows PC.
Type 'run' in the Windows Search bar and hit Enter. In the Run dialogue box, type the following command and press Enter again:
%localappdata%\Microsoft\OneDrive\onedrive.exe /reset
This should reset your OneDrive desktop client and hopefully resolve the issue.
If the error message still appears, contact Microsoft Support and access OneDrive using a web browser until the error is resolved.
Read: Fix OneDrive sign-in error 0x8004de69.
Why does OneDrive say No internet connection?
When OneDrive says no internet connection, it indicates there's a problem with your network that isn't allowing the app to sign in to your account and access your files or data on the cloud. This usually occurs when you receive weak signal strength or your app or OS is not up to date.
What to do if OneDrive is not connecting?
If OneDrive is not connecting to your account, make sure you've got stable internet and try restarting the OneDrive client. If that doesn't help, update the OneDrive app, disable proxy settings, and disable security features on your system, such as antivirus or firewall. If the issue persists, switch to Google Drive, Dropbox, or some other cloud storage app for sometime.
Read Next: OneDrive stops syncing; Displays .ds_store sync error.
#OneDrive #Error #Code #Network #Connection