'Rustin' – It Was a Sheer Terror for Colman Domingo To Step on Set
The Big Picture
Colman Domingo reflects on his career journey from regional theatre to his first leading roles in Netflix's Rustin.
Domingo discusses the responsibility of portraying Bayard Rustin in the film, highlighting the importance of honoring Rustin's untold story as a Black gay man and civil rights activist.
He shares the most challenging scene to film, other aspects of Rustin's life he'd like to see explored, and more.
It's been an incredible past few years for actor Colman Domingo. He discusses with Collider's Steve Weintraub beginning his career performing in regional theatre before flexing his skills in feature productions with directors like Steven Spielberg, Ava DuVernay, Spike Lee, and more. You'll be able to catch more of his work in the upcoming musical adaptation of The Color Purple or Ethan Coen's Drive-Away Dolls, but first, he'll star in his first leading role for Netflix's biographical drama, Rustin.
Rustin, directed by George C. Wolfe, highlights the untold story of the architect behind the pivotal March on Washington, Bayard Rustin. An activist and skilled organizer, Bayard was shoulder-to-shoulder with some of history's most influential figures like Martin Luther King Jr. (played by Aml Ameen) and Ella Baker (Audra McDonald), but you'll more than likely not have heard of him. Not only was Rustin a Black man fighting for justice in the '60s, he was a gay Black man, and as Domingo points out, "history will make shining examples of some and others they will push to the side." Regardless of history's attempt to bury Rustin's efforts, the movie honors his participation in the March on Washington and the inspiration he provided to a generation.
During their discussion, Domingo shares his experience working on box office films over the years, what he learned from theatre and carries with him, and the role of being a leading actor on set. He talks about the "sheer terror" of first stepping on that set, why portraying Bayard Rustin was such a huge responsibility, the most challenging scene to film, and what other aspects of Rustin's life he'd like to see explored. For all of this and why Domingo believes it's taken so long to tell Rustin's story, check out the video above this article, or you can read the full transcript below.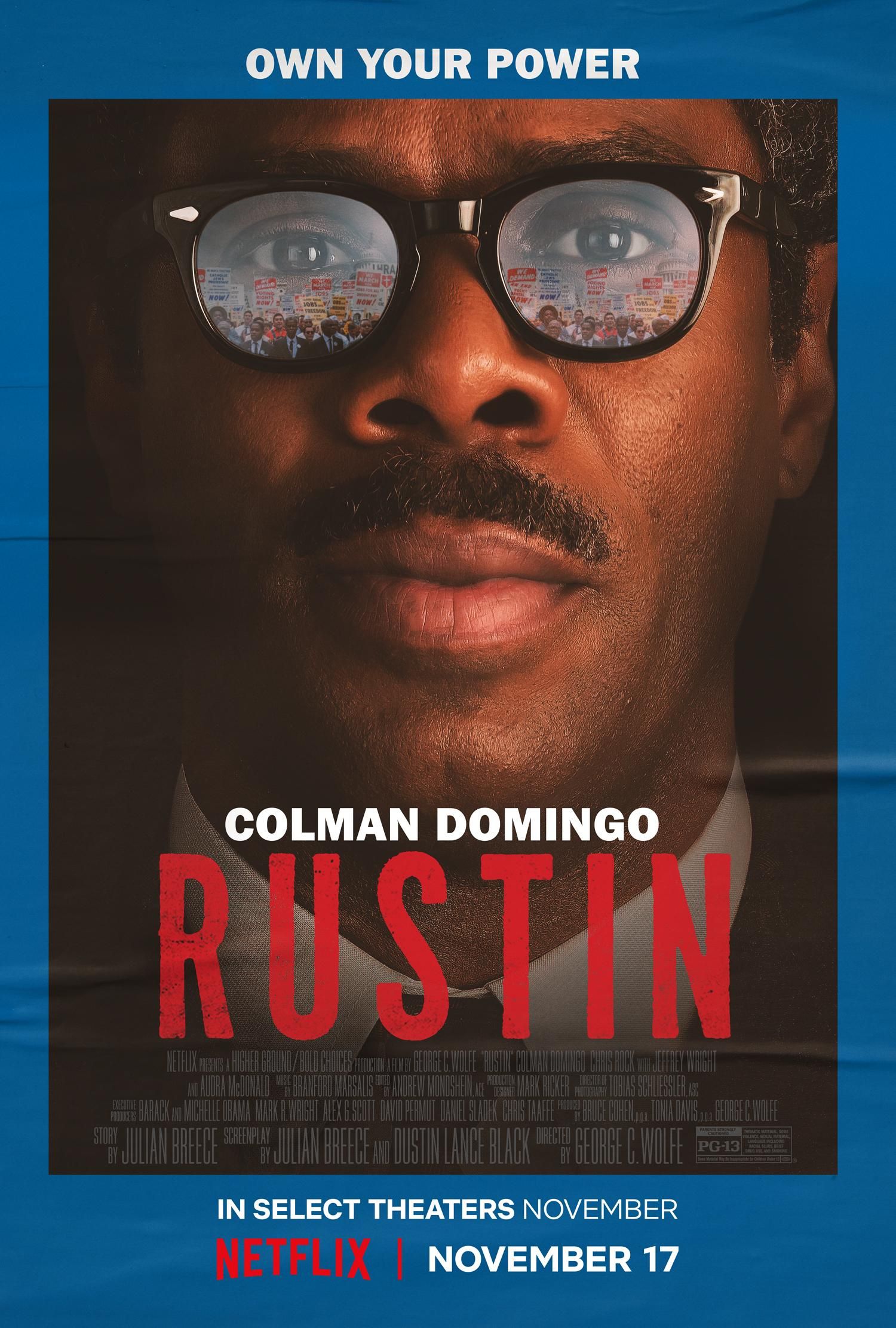 Rustin
Activist Bayard Rustin faces racism and homophobia as he helps change the course of Civil Rights history by orchestrating the 1963 March on Washington.
Release Date

November 17, 2023

Director

George C. Wolfe

Cast

Colman Domingo, Chris Rock, Glynn Turman, Aml Ameen

Rating

PG-13

Runtime

106 minutes

Main Genre

Drama

Writers

Julian Breece, Dustin Lance Black
COLLIDER: You are fantastic in this movie. I have nothing but positive things to say. You've been acting for a long time but this year you have this film, you have The Color Purple; you just did Sing Sing; you just worked with Ethan Coen for Drive-Away Dolls; you were the voice in Transformers [Rise of the Beasts] of Unicron, which is also cool. What has it been like for you these last few years in these roles?
COLMAN DOMINGO: I think the beautiful thing is I can recognize the journey. I'm a journeyman. I've been working for over 30 years, and I started in the regional theatre, regional theatres around the country, just being a working actor. There's so many of us in that way. So, I think I've honed my skills in that way for so long, to New York and London, and then making my way in film and television. Now, I'm very much a character actor and a leading man at the same time, it seems, which is kind of cool because I think the work that I've been doing when I was out in the regions was that work, whether I was playing a leading man in a Shakespeare production or I was playing a clown. I have that facility, and now I feel that facility is being utilized in a really great way, which is awesome. So, I feel like I'm able to play in different spaces and that people are seeing my work and appreciating it for what it is. Again, it's just that I've been working for a long time and so it's been a slow, slow evolution in a way. Now it seems that a lot of people understand what I've been doing, or what I've been trying to do, which is really beautiful. So, it's a great time.
Why 'Rustin' Terrified Colman Domingo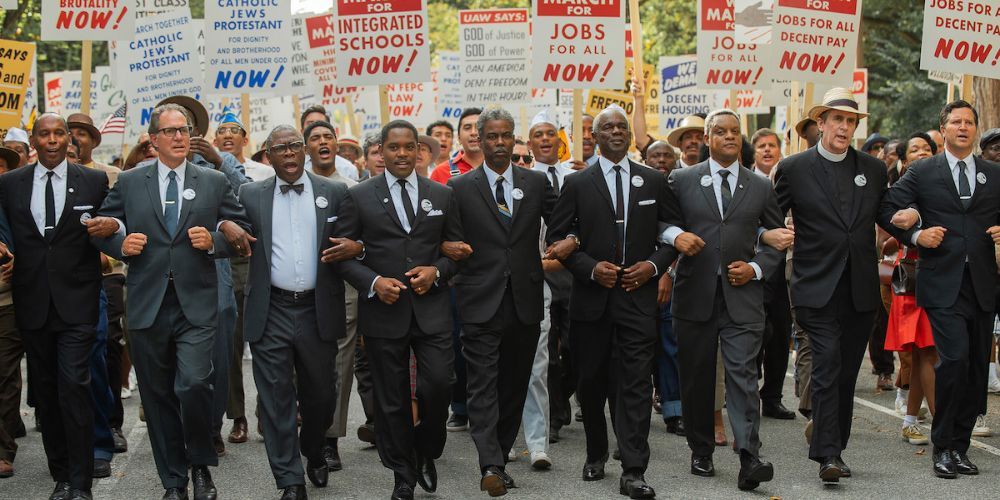 I'm sure when you looked at the script, this must have been a real thrill for you to play this role but also an incredible responsibility. Can you talk a little bit about what it was like for you once George said, "Hey, it's you," and getting ready to step on set?
DOMINGO: Then, you get terrified. [Laughs] You get terrified because you feel like you may have some of the tools that you may need to interrogate this role, but then it's also a sheer terror because you feel an incredible responsibility for a story like Bayard Rustin's, that for years no one would touch. The idea that he was the architect of the March on Washington and he has inspired Dr. King and was one of Dr. King's close friends, and we don't know much about him. So, it felt like a responsibility for many communities – for the LGBTQIA communities, for civil rights communities, for people who knew and loved Bayard and understood his impact in the world. It felt like a lot of that went on your shoulders. All I thought was, "Let me just do the work." That's what Bayard would do every single day: make himself useful, which is a line in the film. I would make myself useful every day to just carve a little bit more of the work in, carve more work in and not think about getting it right, but just try to be as honest and of service to the script and the company that I was leading and being a part of. That was my North Star every single day.
Which 'Rustin' Scene Was the Most Challenging?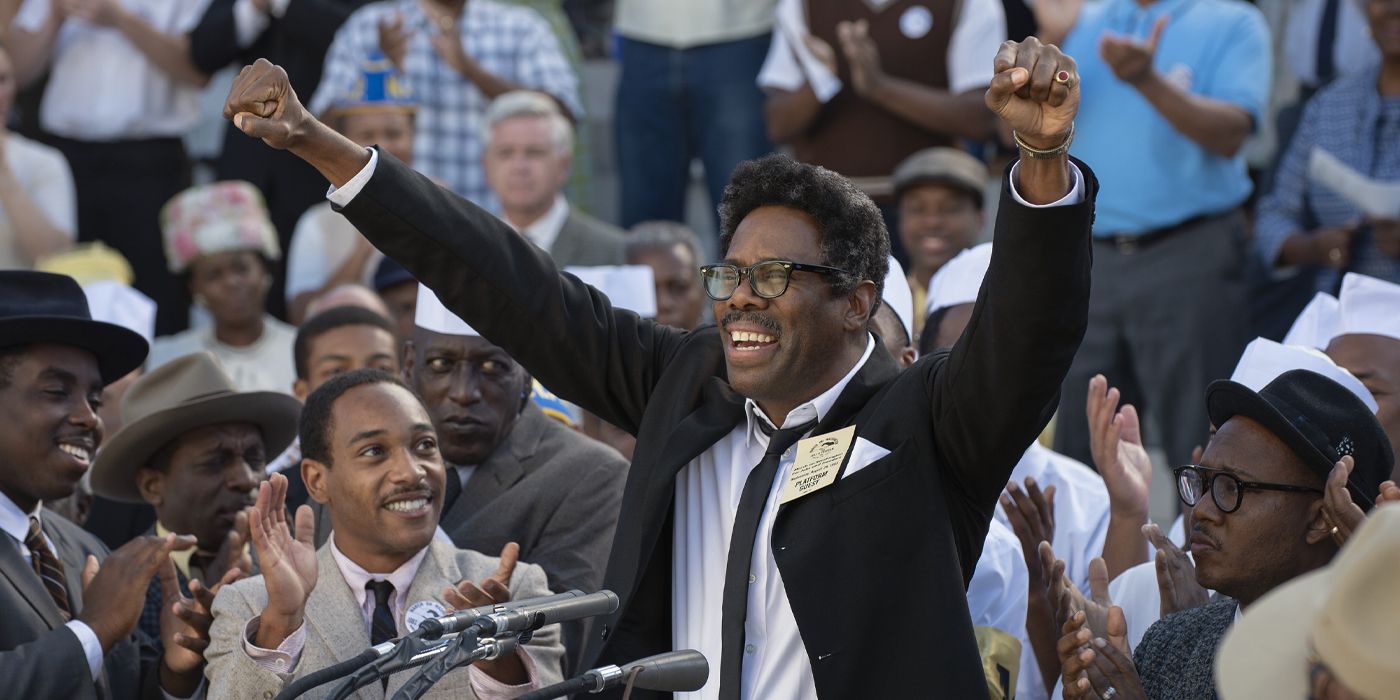 Which day on the schedule did you have circled either because you were incredibly excited to film it or because you were scared to step on set that day?
DOMINGO: There's a scene where I profess to Martin Luther King, towards the end, about me being homosexual, and they want me to, possibly, step away from the movement so that the march can happen. He defends himself for the first time. I worked on that scene for a very long time because I wanted it to come out in a very organic way, and let the moment build and not think too much about it, to be honest. I just wanted it to come from this honest place where performer and character do this [clasps hands]. So, there's a little bit of myself, there's a little bit of Bayard, there's a little bit of George, there's a little bit of every single person in that company, of the 130 people on that set, that is in that scene with me. I would look at my cast most of the time, and they'll tell you, I would look at them before many scenes because I needed to take them inside me on this journey because that's what Bayard did. He was a people person. He inspired so many, that I wanted to take them all on the journey with me and say, "This is all of our story." So, that one, in particular, was a moment that I knew I had to take a lot in, and I knew that that was the one, that moment, is for so many people who maybe wish they had that moment to say, "This has defined who I am in the world," and challenge someone, to say, "Do you believe it or not?"
How Bayard Rustin's Story Inspires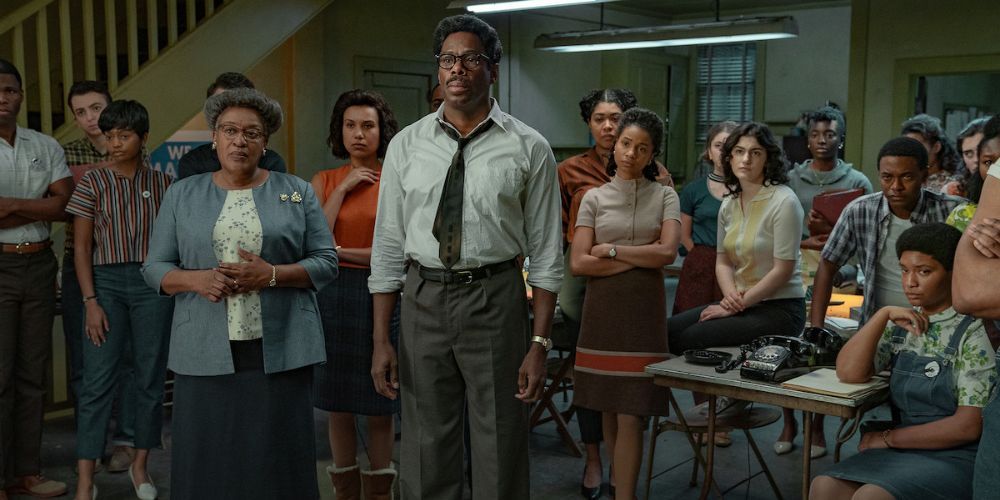 His life has so many amazing moments besides the March on Washington. If you could actually make another movie involving his life, what's the other moment that you would love to see on screen or be depicted?
DOMINGO: I feel like when he was a teenager and he did his first protest, which was protesting the food in high school. You know, that's kind of dope. He's like, "No, this is garbage."
But also, it's the year that he was doing this.
DOMINGO: [Laughs] Yeah, like 1946 or something like that. Yeah, exactly. For a very much young, queer, Black Quaker boy to stand up and say, "No, this isn't right," in his youth? That is very interesting to me. I would love to see that. I think that that's very inspiring. I think that'll inspire more youth to say, "Hey, you have power, actually, in your voice. If you're committed to what's right and that's your North Star, you can't go wrong."
What Took So Long for Rustin's Story to Be Told?
Last thing for you: why do you think it has taken so long for this story to be told? It's such an integral part of the March on Washington, and the things that he did are so incredible.
DOMINGO: Well, that's history for you, isn't it? History will make shining examples of some and others they will push to the side, whether it's for the optics of the movement, you name it. But there comes a time when you can't deny it anymore. I think that these are the times now when certain stories are coming to the forefront; we can't deny it. Also, I think you have people who want to make sure that these stories are told. President Barack Obama was very much inspired by Bayard Rustin. He said that the reason why he became a community leader is because of a lot of Bayard's principles and teachings. So, he's an inspiration. He's inspired so many, and now people are saying, "We need to tell his story because his story matters, as well."
Rustin is available to watch on Netflix in the U.S.
Watch on Netflix
#Rustin #Sheer #Terror #Colman #Domingo #Step #Set