The Gilded Age Season 2 Episode 4 Recap: 10 Biggest Story Reveals
Warning: This article contains spoilers for The Gilded Age, season 2, episode 4!
Summary
Mrs. Russell's plan to secure funding by offering a tour of The Met to wealthy patrons could save the season, but her husband's secret financial help may come back to haunt them.
Mrs. Russell successfully ends the feud with her husband and secures a victory over Mrs. Winterton by manipulating their seating at the Duke of Buckingham's reception.
Reverend Forte shocks everyone by proposing to Ada Brook, offering her the chance to finally live her own life and find happiness.
This week, the drama in The Gilded Age season 2, episode 4 reached a crescendo worthy of the Opera War that's been raging between Mrs. Russell and Mrs. Astor since the premiere. Building off many of the heated storylines outlined in the recap of The Gilded Age season 2, episode 3, it's one of the most explosive episodes of the series thanks to the dynamic nature of the interpersonal relationships between Mrs. Russell and Mrs. Winterton, Lawrence Russell and the widow Mrs. Blane, and, given when The Gilded Age takes place, the two most prominent families on 61st Street, the Russells and the Van Rhijns.
As Mrs. Russell makes the final preparations to open The Met's first season, her opponent, Mrs. Astor endeavors to work behind the scenes to make it a disaster, though her countermeasures end up aiding her enemy's cause more than hindering it. Peggy Scott travels to Tuskegee, Alabama for her big story, and Marian struggles to define and maintain boundaries in her budding relationship with Mr. Montgomery. Meanwhile, her aunt Ada Brook throws herself into helping Reverend Forte with his cause supporting missionaries overseas, and Oscar van Rhijn nurses his relationship with Maude Beaton.
10
Mrs. Russell Presents A Tour Of The Met
Patrons See It Before the Start Of The Season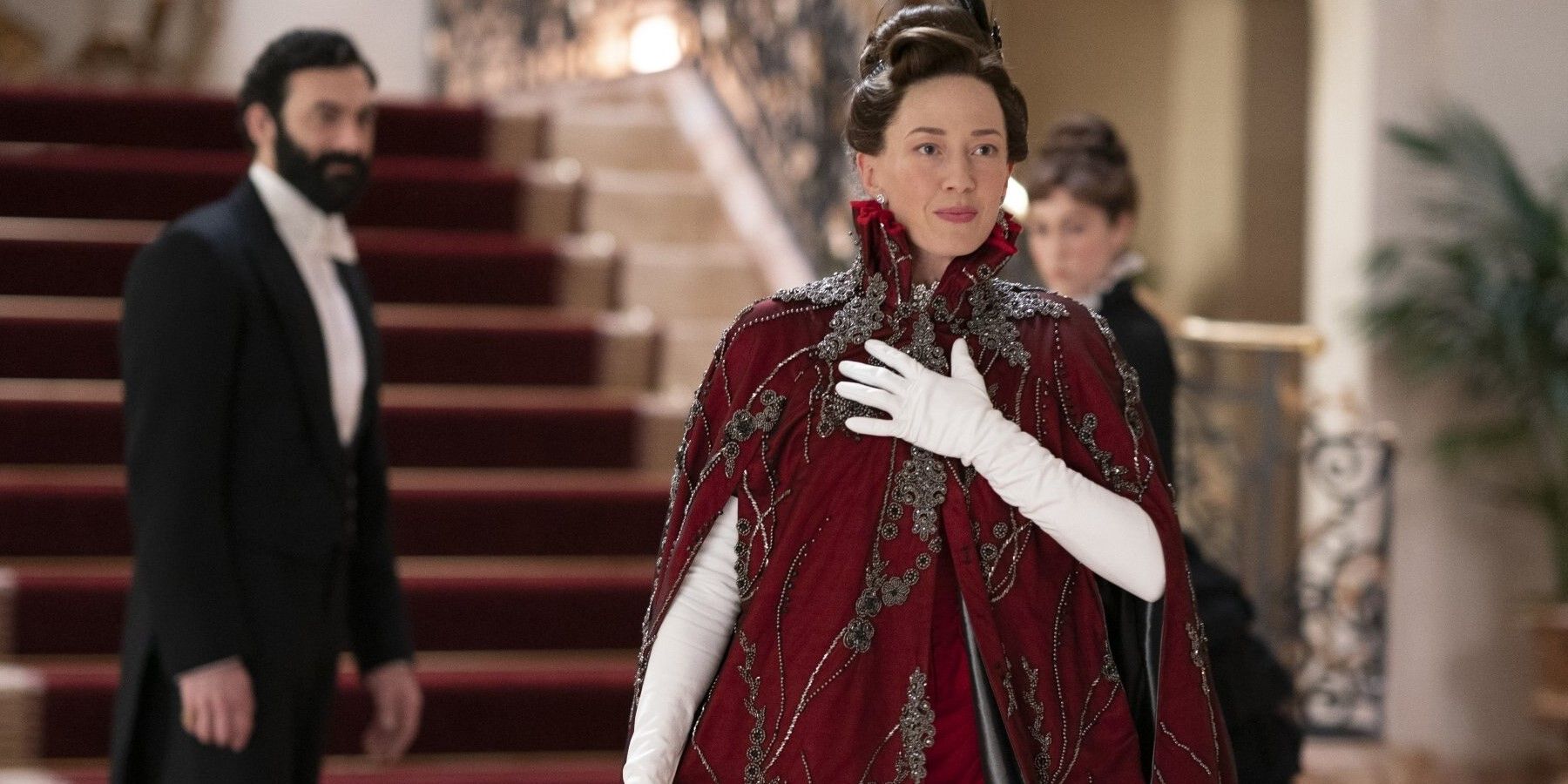 In order to entice wealthy patrons to buy boxes at The Met, Mrs. Russell takes them on a tour of the majestic opera house, including Mrs. Winterton. While the inside is majestic, it's clearly unfinished, and Mrs. Russell gets the bad news that unless she can secure more funding, work will not be able to proceed in time for the opening. When work resumes again later in the episode, it's heavily implied that Mr. Russell ended up using his own money to bail his wife out, which could come back to haunt him; one, because it makes him seem union-poor, and two, because of his history of omitting information from her.
9
Mrs. Blane Breaks Up With Larry Russell
The Press Is Becoming Too Nosy
Unfortunately, the press has gotten wind of Larry Russell's torrid affair with the much older Mrs. Blane and now it threatens to shame the Russell name. Mrs. Russell summons Mrs. Blane to New York under the guise of purchasing a box at The Met, and when she arrives, the Russell matriarch forbids her from having anything further to do with her son, adding insult to injury by pointing out that when Larry is in his prime, she'll need a cane to walk. Though she's shaken, she ultimately concedes Mrs. Russell's point, and has to make the heavy-hearted choice to break up with Larry for his own sake.
8
Ada & Reverend Forte Date In Secret
For Fear Of Agnes Van Rhijn's Disapproval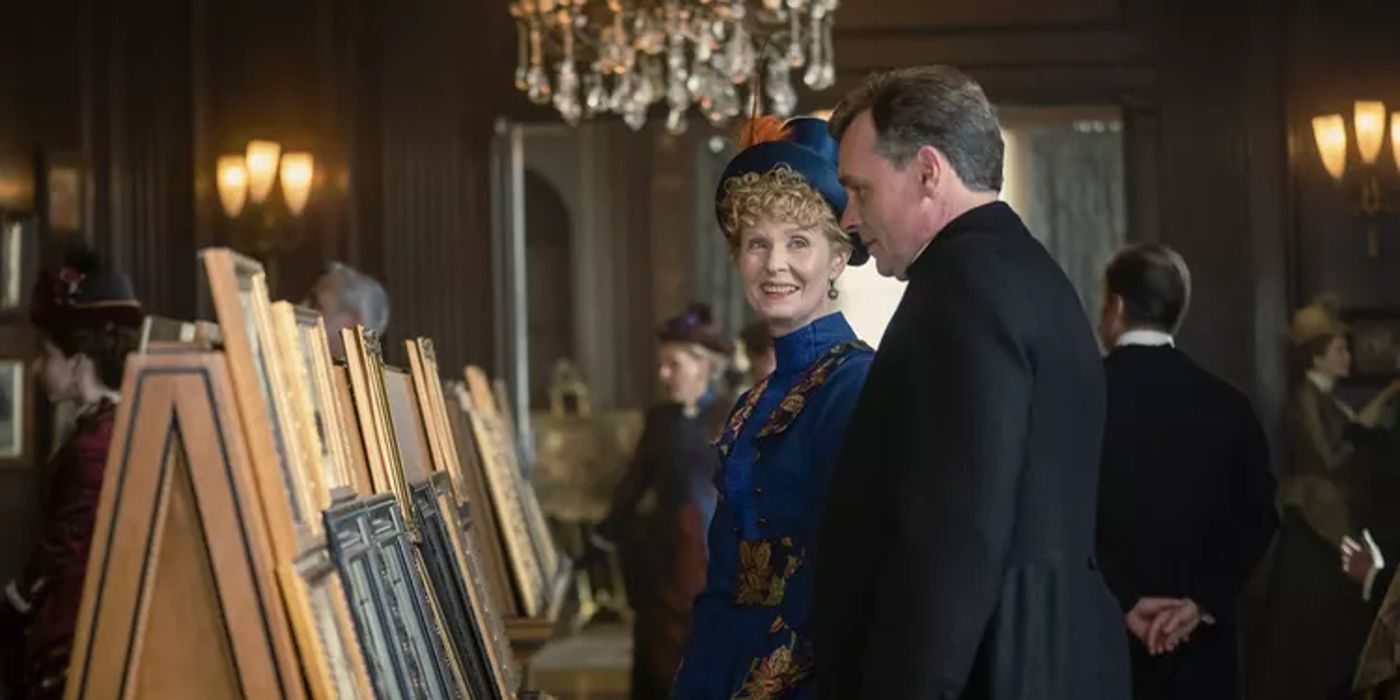 Ada Brook never thought she'd find love after a youth spent on the fringes of romance, but after hosting Reverend Forte at her home several times, the rector became enamored with her. In episode 4, they go on a clandestine date in the park, but when he gives her a bouquet of flowers, Marian has to pretend that she accepted them from a student at school. The discouragement of watching a grown woman of Ada's age tiptoe through her new love life is balanced out by how giddy and happy she is in episode 4, which is in such stark relief from her demeanor in The Gilded Age season 1.
7
Marian Gets Mistaken For Mrs. Montgomery
After Attending A SocietyTea With His Daughter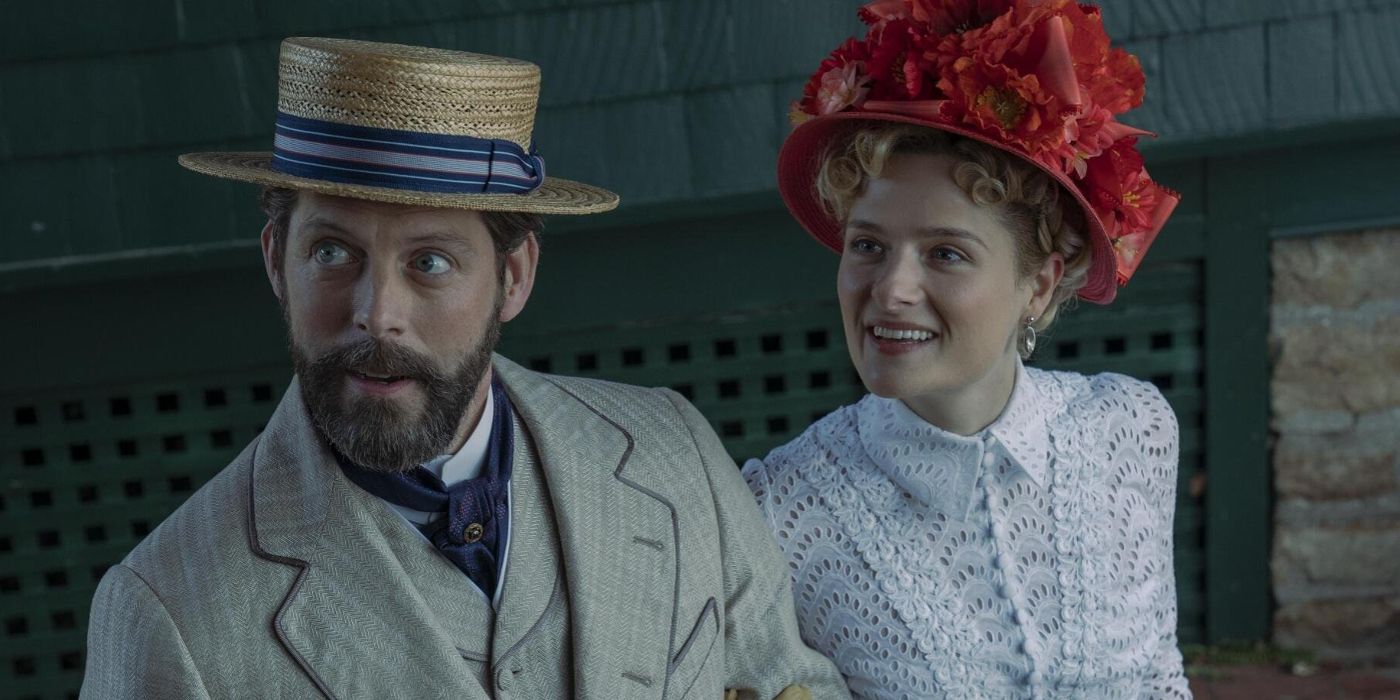 While her aunt might invite the advances of Reverend Forte, Marian Brook continues to be skittish and cautious around Mr. Montgomery. She agrees to appear with his daughter/her pupil at a special tea intended for mothers and daughters, but gets mistaken for his wife, something Francis doesn't seem to mind. Unfortunately, this causes Marian to make excuses for spending time with Francis and her father on other occasions, but it's difficult to determine whether Marian is just trying to draw firm boundaries between teacher and pupil or between herself and Mr. Montgomery so soon after her heart was broken by Mr. Raikes last season.
6
Peggy Visits Tuskegee With Mr. Fortune
She Makes An Impression With Booker T. Washington
Peggy and her publisher Mr. Thomas Fortune travel to Tuskegee, Alabama to stay at the home of Mr. Booker T. Washington and his wife. They interview him about the opening of the first dormitory in the country for people of color, many of whom were formerly indentured to plantations without any agency of their own. Peggy proves her diplomatic skills after a fierce verbal debate breaks out at the dinner table between her employer and their host over the latter's compromising approach with white people to gain equity for people of color, and ends up coming up with several good ideas for the direction of their story.
5
Mr. & Mrs. Russell Attend The Duke Of Buckingham's Reception
Mrs. Russell Becomes His New Best Friend
George Russell successfully ends the feud with his wife by securing an invitation to the reception of the Duke of Buckingham, where Mrs. Russell wastes no time in switching the place cards at the dining table in her favor. Seated right beside the Duke, she immediately cajoles him into staying at her house in Newport instead of with Mr. and Mrs. Winterton as intended, which gives her both a victory over Mrs. Winterton (formerly her lady's maid) and anyone else in society who would do anything to have a member of the landed gentry stay at their home.
4
Mrs. Astor Kicks The Wintertons Out Of Their Opera Box
After Hearing About Mrs. Winterton's Real Identity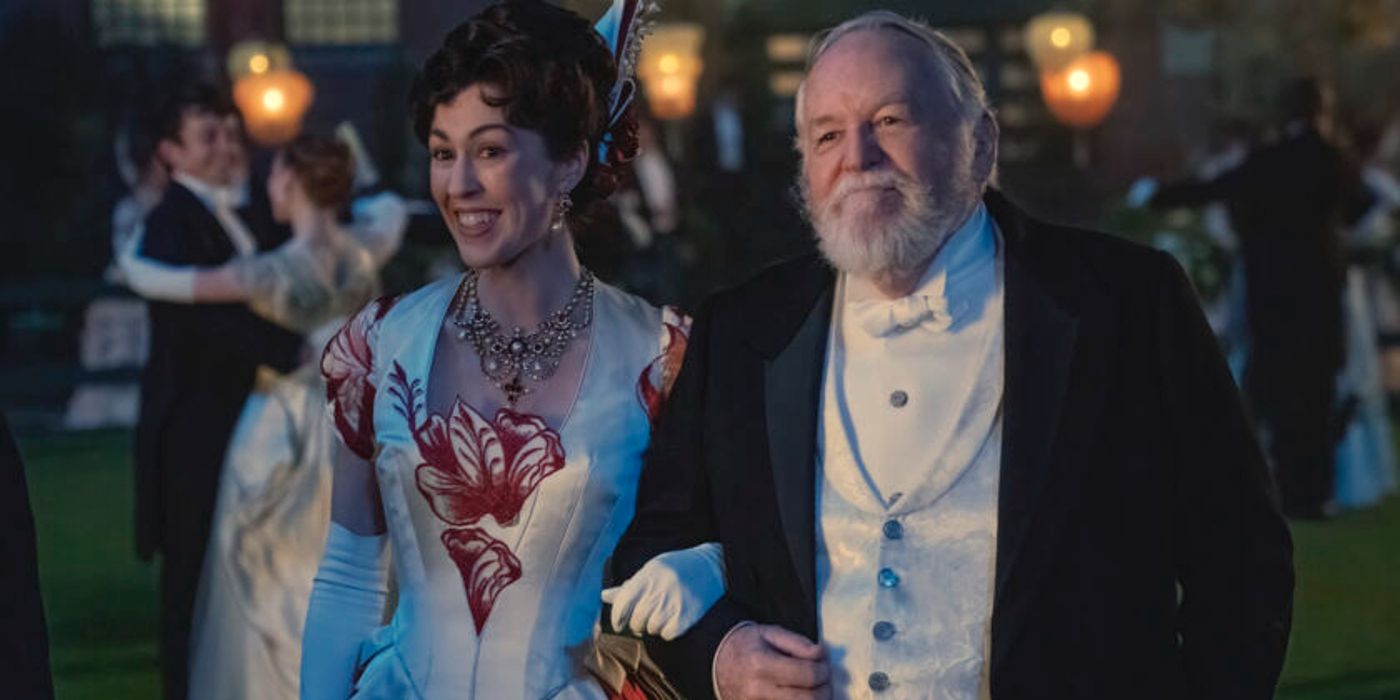 Mrs. Russell uses the ace up her sleeve by letting word get back through society's grapevine to Mrs. Astor that Mrs. Winterton was once in service. Mrs. Astor summons Mr. Winterton to inform him that it wouldn't be possible for him and his wife to have a box at The Academy of Music because the other ladies won't accept the difference in their station. This so infuriates him that he declares he will simply purchase a box at The Met and get the rest of his wealthy friends to do the same, proving in one shrewd maneuver that Mrs. Russell has gained another victory over Mrs. Astor and Mrs. Winterton.
3
Mr. Watson Demands To See His Daughter
He Won't Leave New York Until He Hears From Her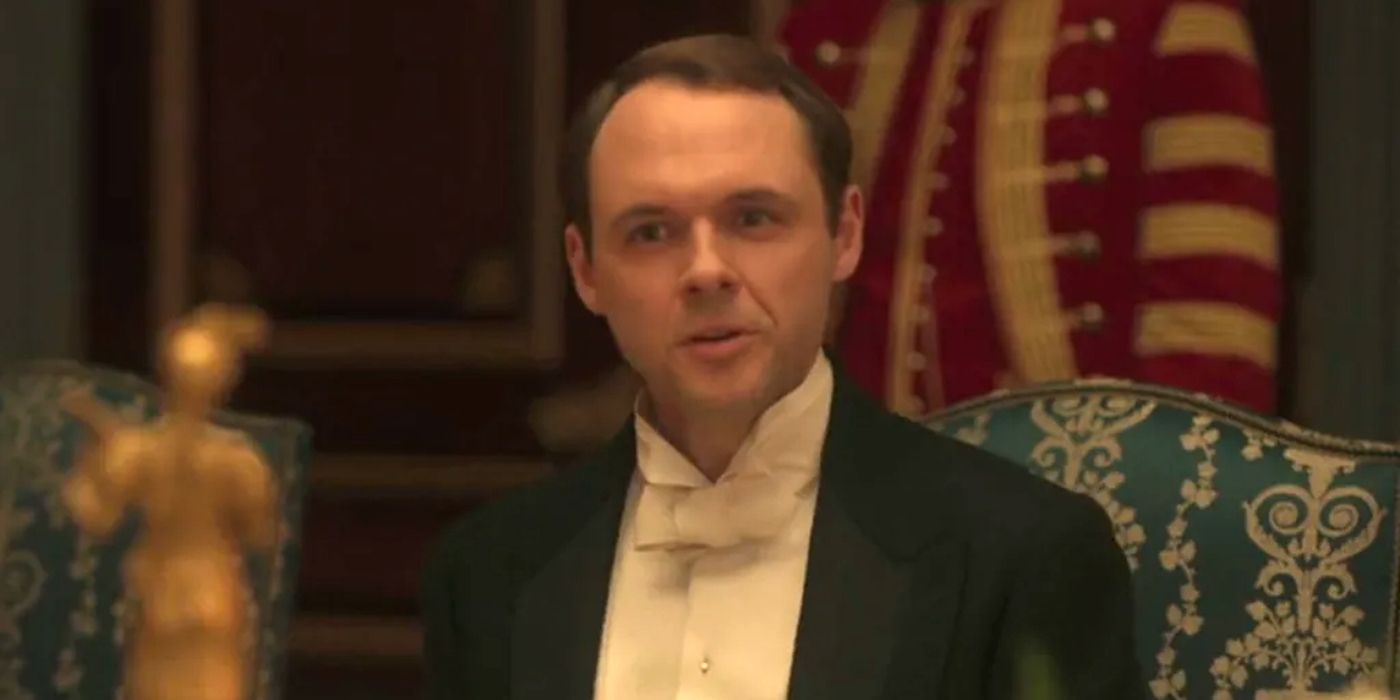 Mr. Watson continues to mull over Mr. McNeil's offer to leave New York and never communicate with his daughter again in exchange for an apartment in San Francisco. After speaking more with Mr. Church, however, he believes that he would like to hear from his daughter's lips that it's what she wants, rather than his son-in-law's. He goes to Mr. McNeil and demands to see Flora only to be rebuffed, but it's at this moment that Mr. Watson seems to realize that he holds all the cards and has nothing to lose by revealing his identity if he really wants to ruin their lives, and McNeil knows it.
2
Mr. Russell Prepares For The Day Of The Strike
The Governor Grants Him Militia Help With The Scabs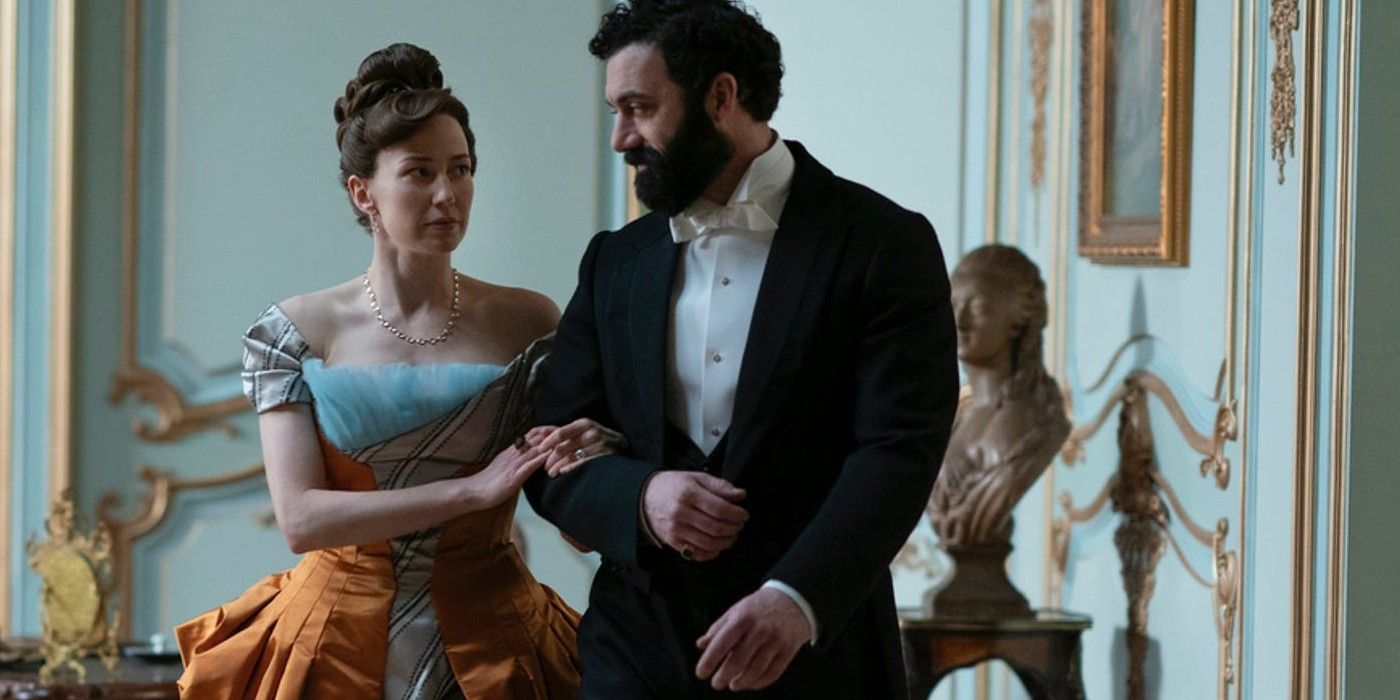 Mr. Russell grows increasingly wary of the worker's strike that will occur in the next few weeks. He assures his investors that the governor of New York has granted him access to a militia that will make sure scabs can cross the picket lines and enter his mills. However, based on previews for The Gilded Age season 2, it's clear that the strike won't be peaceful, and that if the armed militia members become involved, striking workers will brandish their own weapons to defend their right to solvency, livable wages, and safe work conditions.
1
Reverend Forte Proposes To Ada Brook
She Gets The Whirlwind Romance Of Her Dreams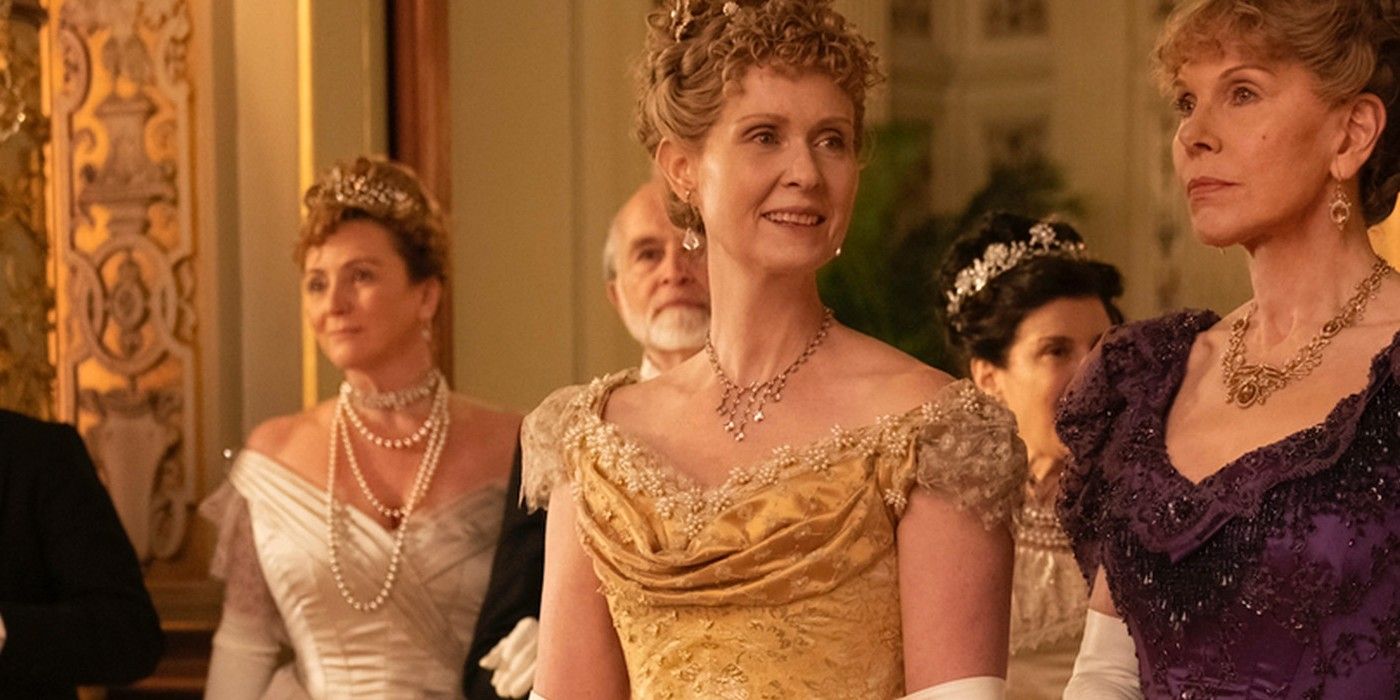 One of the most shocking story reveals in episode 4 comes when Reverend Forte invites Ada to an innocent choir practice only to get down on one knee and propose to her! While fans might be led to believe she'll cower in the face of such a delightful moment, too concerned about what Agnes will think if she behaves selfishly or recklessly, she surprises everyone by accepting. Whether fans will get to see the wedding in this season of The Gilded Age or the next, the fact that Ada may finally get to live her own life was an exciting way to close out the episode.
The Gilded Age

Release Date:

2022-01-24

Cast:

Carrie Coon, Morgan Spector, Louisa Jacobson, Denée Benton, Taissa Farmiga, Harry Richardson, Blake Ritson, Christine Baranski, Cynthia Nixon

Genres:

Drama, History

Rating:

TV-MA

Seasons:

1

Writers:

Julian Fellowes, Salli Richardson-Whitfield

Streaming Service(s):

Max

Directors:

Michael Engler, Julian Fellowes, Deborah Kampmeier

Showrunner:

Julian Fellowes
#Gilded #Age #Season #Episode #Recap #Biggest #Story #Reveals