What Happened to 'Now You See Me 3'?
The Big Picture
Now You See Me 3 hasn't been realized yet despite discussions because of various factors, including the busy schedules of the cast and concerns over the film's potential profitability.
The franchise's distinct casting approach with a range of performers has made it difficult to assemble the original cast for a third film, as they have been occupied with other projects.
The success of Now You See Me 2 hasn't been enough to guarantee another sequel, as the costs of reassembling the cast and creating lavish scenarios may not be justifiable, especially considering the decline in Chinese audience interest in American blockbusters.
The Now You See Me franchise refuses to fully die in the pop culture consciousness. Whether it's because of the dearth of mainstream magician movies or just that the members of the main ensemble cast are well-liked, every so often this feature seems to re-emerge in some form on social media. A clip from one of the franchise's CG-laden magic trick sequences will suddenly go viral on YouTube or Facebook, or perhaps some film geek will bring up the peculiar fact that Woody Harrelson played twins in Now You See Me 2. These aren't really testaments to the Now You See Me features being enduring classics, but they haven't entirely disappeared from the world either.
Given this quality and the fact that another sequel has often been talked about in the press, it's a wonder Now You See Me 3 hasn't been realized yet. However, there is a multitude of factors at play that have ensured Now You See Me 3, at least for now, is like the secrets behind a great magician's trick: hidden away from the public.
RELATED: 'Now You See Me 2' Director Jon M. Chu Explains Why the Film Wasn't Called 'Now You Don't'
When Did Discussions About 'Now You See Me 3' Start?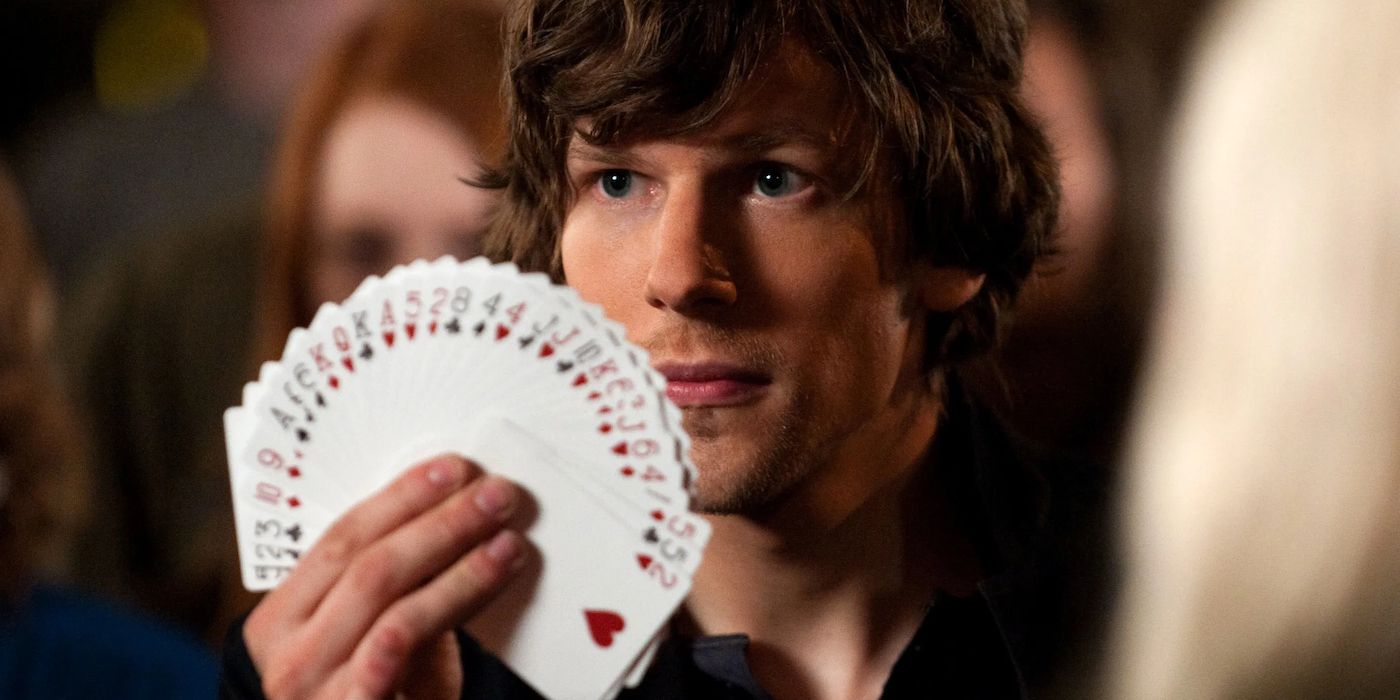 The earliest rumblings of the Now You See Me franchise expanding beyond two movies emerged before Now You See Me 2 even opened. A little over a year before this initial sequel premiered, the head of Lionsgate (the studio responsible for the franchise) confirmed a third Now You See Me was in the pipeline. The studio was contending with the impending end of the Hunger Games franchise at this point, which made the urgency of supporting more Now You See Me adventures extra important.
In June 2016, Now You See Me 2 debuted in theaters and proceeded to do fine business, cracking $330 million worldwide. While the film made roughly 45% less than its predecessor in North America, globally, Now You See Me 2 was on par with the box office haul of the first installment. All in all, a perfectly fine box office run and just enough to suggest that more Now You See Me installments would be magically appearing in theaters eventually.
In the years immediately following Now You See Me 2, though, there was minimal news regarding a follow-up. Occasional rumors about big actors supposedly signing on for the film would crop up, but none of them had any real heft or legitimacy. In early 2020, Lionsgate hired a screenwriter to draft up a script for a third Now You See Me while Uncharted director Ruben Fleischer was hired to helm this installment in September 2022. However, there's been no other movement on the project, even since the first film's tenth anniversary earlier this year. The Now You See Me saga is becoming more and more of a faint memory for audiences, reducing the potential appeal of a third movie.
Why Is 'Now You See Me 3' So Difficult to Make a Reality?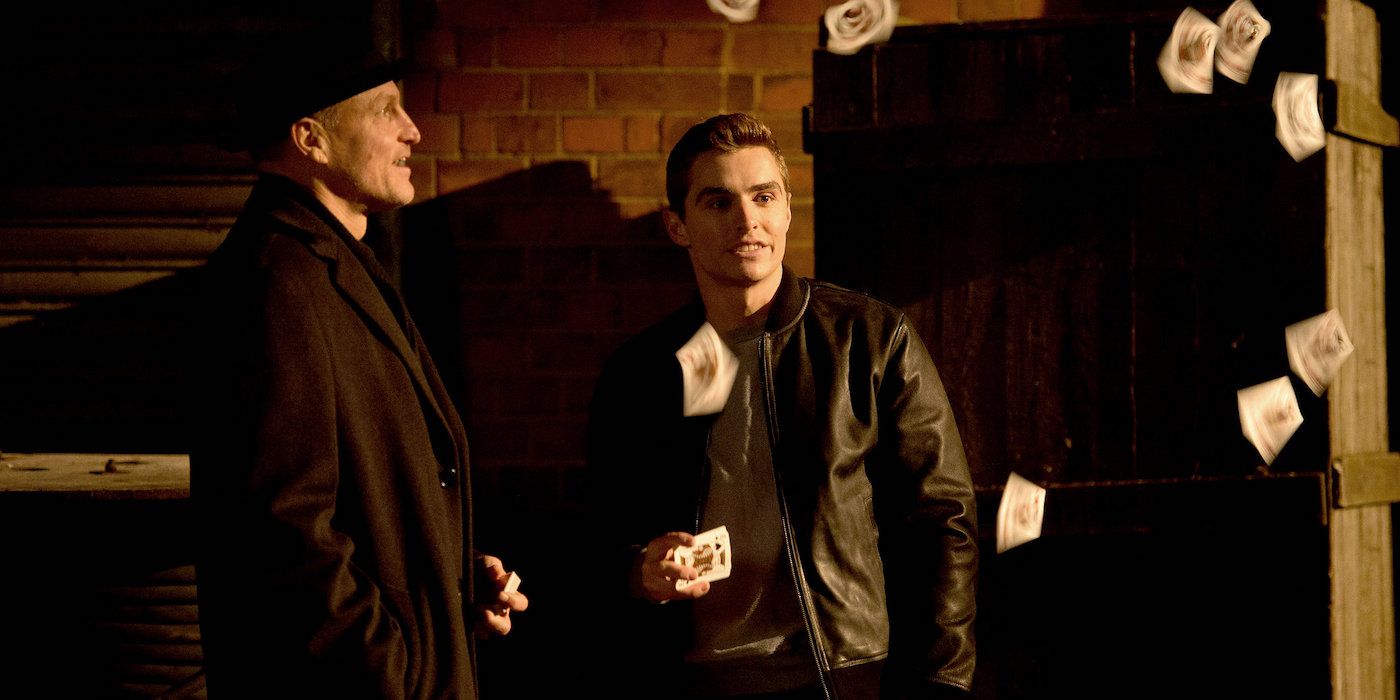 Likely the biggest culprit behind why Now You See Me 3 has never happened is because of this franchise's cast. The original two movies were anchored by a strange hodgepodge of performers ranging from Woody Harrelson to Jesse Eisenberg to Lizzy Caplan. These lead casts offered a little something for everybody, even if the casting also could feel more than a tad disjointed. This distinctive casting approach, though, has made it difficult to assemble these people yet again for a third outing.
Since 2016, all these actors have been incredibly busy, with Harrelson, for example, alternating between tiny indies and time-consuming blockbusters. Eisenberg and Dave Franco, meanwhile, have shifted over to primarily directing rather than acting. Caplan's had a steady stream of high-profile TV shows to anchor. All these projects have kept the faces associated with the Now You See Me saga plenty occupied. No wonder they haven't had the time to star in another Now You See Me installment.
It isn't just actors that have kept Now You See Me 3 from being realized, though. The project has also likely been plagued by concerns over whether Now You See Me 2 was big enough to warrant another sequel. It wouldn't be cheap to re-assemble that star-studded ensemble cast nor to put them in the kind of lavish locales that dominated the first two entries in this franchise. With potentially major costs mounting for Now You See Me 3, Lionsgate executives have undoubtedly been sweating over whether it makes sense to spend all that cash on a sequel to a seven-year-old movie. Plus, China contributed a whopping $97.1 million to Now You See Me 2's international haul. It's doubtful such a gross is in the cards nowadays for a potential third movie given how Chinese moviegoers have largely eschewed American blockbusters in recent years.
Even the news of Fleischer being hired to direct Now You See Me 3 doesn't inspire much confidence it'll actually get made. After all, this director has lots of additional motion pictures on his plate, including a potential film adaptation of Jak & Daxter for PlayStation Studios. Having delivered a pair of lucrative blockbusters in the form of Venom and Uncharted, Fleischer is in high demand, and it's doubtful he's got much time in the immediate future to concentrate on Now You See Me 3. Plus, even Lionsgate, though still needing a variety of franchises, is a bit less reliant on the Now You See Me saga these days for revenue. Now the studio's in the process of turning John Wick into a cinematic universe and keeping the Hunger Games saga going with endless prequels. More costly movies about magicians are a lower priority right now.
Perhaps someday Now You See Me 3 will see the light of day, perhaps even with its original cast members in tow (maybe Isla Fisher could even come back from the very first movie!) For now, though, the odds just don't look very good that the production is a top priority for anyone involved in the franchise. The chances of this sequel ever becoming a reality look slimmer and slimmer as each day passes, and Now You See Me 2 dips further and further into the past. Perhaps all of this turmoil surrounding Now You See Me 3 could've been avoided if only Now You See Me 2 had been properly called Now You Don't. It certainly couldn't have hurt this franchise's chances for longevity.
#Happened