Why Did Christopher Reeve Refuse To Leave the Set of 'Smallville'?
The Big Picture
Christopher Reeve's appearance in Smallville was a "passing the torch" moment, where he shared the screen with Tom Welling, who played a young Clark Kent.
Reeve's dedication to his role in Smallville led to some behind-the-scenes concerns when he refused to leave the set, even after his nurse threatened to call the police.
Smallville took careful and cautious measures to accommodate Reeve's condition and get him on the show. Despite his death, Reeve made a significant impact on the series and the legacy of Superman.
No actor fits the bill for the Man of Steel quite like Christopher Reeve. While the Superman: The Movie star isn't the only one who can pull off a cape and tights on the big screen, he certainly set the standard. So much so, that when it came down to Reeve's appearance on Smallville, the whole experience was seen as a "passing the torch" moment between Reeve and his young successor, Tom Welling, who played a teenage Clark Kent still discovering his powers and origins.
But while filming for Smallville, Reeve didn't want to miss a moment, and it even got him in trouble with his nurse, who he kept ignoring as the cameras rolled, something Welling mentioned on his podcast with co-star, Michael Rosenbaum on the series rewatch podcast, TalkVille.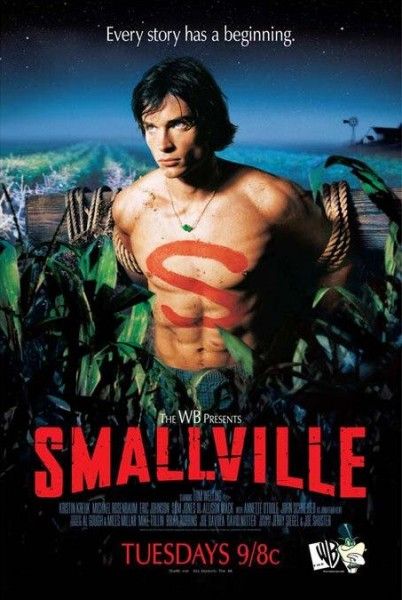 Smallville
After a meteor shower bursts from the heavens, raining destruction on the unsuspecting citizens of Smallville, years pass, and the healing process leaves the town's inhabitants with scars and secrets. From the ashes of tragedy, a popular yet awkward teen attempts to decipher the meaning of his life and his clouded past.
Release Date

October 16, 2001

Cast

Tom Welling, Cassidy Freeman, Erica Durance, Justin Hartley

Genres

Drama, Superhero

Seasons

10

Studio

The CW
Who Did 'Superman' Actor Christopher Reeve Play on 'Smallville'?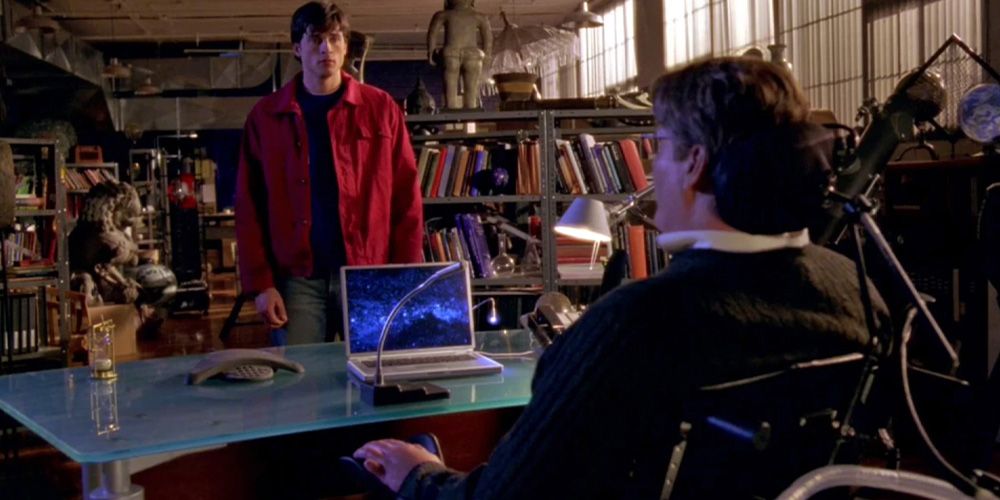 Christopher Reeve first appeared on Smallville during the Season 2 episode, "Rosetta." After Clark accidentally uses his heat vision to burn a Kryptonian symbol onto the side of his family's barn — a symbol that looks eerily similar to those buried beneath Smallville's very own Kawatche caves — he captures not just the attention of some folks in Kansas, but Dr. Virgil Swann, played by Reeve. Swann is a reclusive scientist who once graced the cover of TIME, only to disappear years later, burying himself in his work. When Clark convinces his parents to let him visit Swann in New York, he learns from the scientist that he is from the planet Krypton.
As the iconic John Williams score hums in the background, Swann shares with Clark a message from the stars that name him Kal-El — something the young farm boy never knew. On top of Smallville setting a standard for what a Superman series should look like, "Rosetta" is a fabulous episode all the way around. However, the use of Reeve was paramount to its overall success. Reeve expanded Clark's world, and not just by taking him out of Kansas. It's from this point onward that Clark's entire life and origins begin to make sense, and soon he meets his biological father in the form of an artificial intelligence named Jor-El (Terence Stamp, who played General Zod opposite Reeve in Superman II). While that seems like a lot of drama on-screen, there were behind-the-scenes concerns surrounding Reeve's appearance.
Christopher Reeve Refused To Walk Away From Tom Welling on the Set of 'Smallville'
According to Tom Welling during a Smallville reunion panel hosted by New York City Comic Con in 2022, Christopher Reeve refused to leave the set. To account for the actor's condition, the filmmakers originally framed the shoot around Reeve's coverage first so that he could leave afterward, allowing them to change angles to shoot Welling on his own. "He was only supposed to be there for three hours, but I think he stayed for like six-and-a-half. He was like, 'I don't want to leave,'" Welling revealed to fans, as reported by Entertainment Weekly. "He wanted to stay with me! It got to the point where his nurse said to him, 'I'm going to call the police.' He's like, 'On who?' She's like, 'On you! You're done, you can't be here anymore!' He just wanted to be there."
Thankfully, Reeve eventually left, and filming Smallville didn't do any serious damage to the former Superman star. Welling recounted the story again on the 2023 episode of TalkVille, where he further elaborated on how honored he was that Reeve agreed to appear on Smallville. "'I'm glad you're the next Superman,'" Welling remembers Reeve saying to him on set. "'I'm not, I'm playing Clark Kent.' And he said to me, 'Well you should be.'" It's not often that one Superman gets to pass the torch to another, and Reeve gave Welling his blessing to carry on the role into the 21st century. Welling too had the privilege of doing something similar during the Arrowverse's Crisis on Infinite Earths event, where he passed the cape onto Tyler Hoechlin, who went on to star on the CW's Superman & Lois. No doubt, Christopher Reeve would've been proud.
How Christopher Reeve Nearly Missed Out on 'Smallville'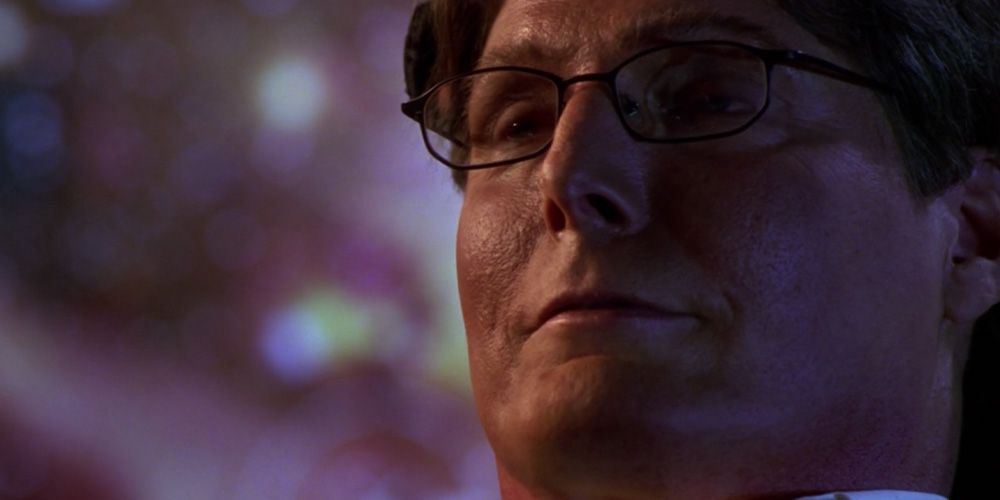 But most fans didn't know that in order to get Christopher Reeve on Smallville, the show had to make some compromises. For starters, series creators Al Gough and Miles Miller had to agree to a donation to The Christopher & Dana Reeve Foundation, which the actor had started to help fund paralysis research, as well as a public service announcement for the charity. The PSA was easy enough as Tom Welling and Reeve shot one together on set that aired during both Season 2's "Rosetta" and Season 3's "Legacy." But the money was a tougher sell.
"That took four months of 'Who was gonna pay the money, 'cause it's more than just a 'top of show guest star,'" Gough revealed on the TalkVille rewatch podcast hosted by Michael Rosenbaum and Welling. "That became a big negotiation." Additionally, the show had to make its way to the New York-based Christopher Reeve to make it all happen. Though the WB-turned-CW series was filmed primarily in Vancouver, British Columbia, Reeve's condition made it impossible for him to travel to the set. So, the Smallville producers found another way to make the guest appearance happen, instead​ of taking the crew and Welling with them to New York to film there.
"Rosetta" marks the first of only two episodes of Smallville that were filmed in the United States — the second being Reeve's return appearance, and only for an extended scene that allowed the show's Superman-in-training to meet the veteran Man of Steel. "We knew [it] would be so important for the series," explained co-creator Miles Miller. "And for the legacy of Superman."
Christopher Reeve Returned for Season 3 in His Final Acting Role Before His Death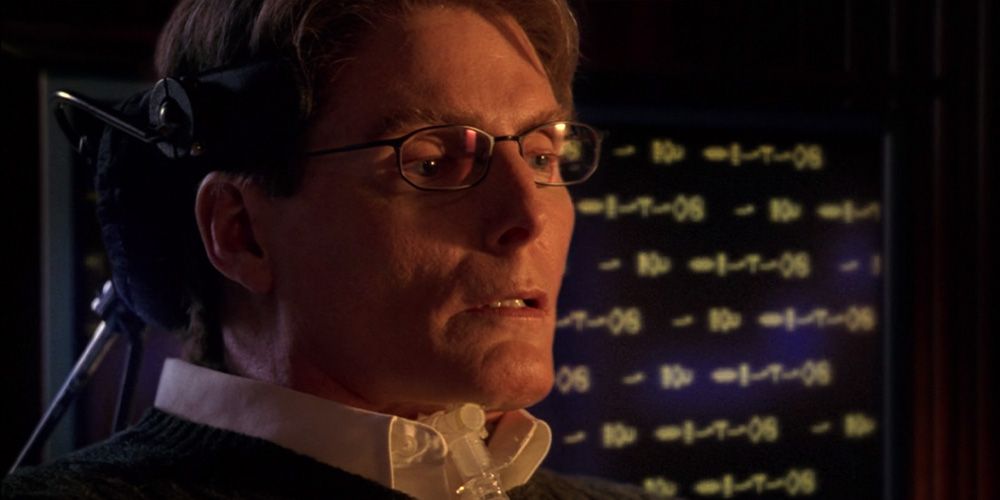 The following year, "Legacy" opened the doors for future appearances by Christopher Reeve, making him a more important player in the Smallville universe. Here, Dr. Swann is confronted by none other than Lionel Luthor (John Glover), who wishes to use the good doctor's knowledge of Krypton and the Kawatche caves beneath Smallville (and his connection to Clark) to help cure a terminal illness he's developed. After some serious consideration, Swann chooses to help Lionel, but seemingly because he's actually protecting Clark. Of course, Clark is furious, which leads to Dr. Swann acknowledging how he might have opened the door to Krypton too early. At Clark's request, he reveals another Kryptonian message, one that originated on Earth rather than Clark's fallen home world.
This is the last time we see Clark and Swann interact, which is truly a shame because Welling and Reeve work so well together. This episode also united Reeve with Smallville veteran, Glover. One can't help but wish that they would've featured Reeve for a role in Season 1, which would've opened the doors for more episodes. Maybe the show could've even arranged a reunion between him and his Superman III co-star Annette O'Toole, who played Martha Kent on Smallville and Lana Lang in the Superman films; or Margot Kidder, who played Lois Lane in the Reeve films and guest starred as Bridget Crosby during Smallville Season 4. In fact, his old on-screen flames would probably have loved it.
"The thing that I was most sorry about was that I didn't get to work with Christopher Reeve," O'Toole revealed to Tom Welling and Michael Rosenbaum on TalkVille. "I just personally would've loved to see him again." Unfortunately, it wasn't meant to be. By the time Season 4 had begun airing, Reeve passed away on October 10, 2004, at the age of 52. Smallville honored Reeve's passing during the episode "Devoted," which aired only a few days after his death, with the end credits epitaph reading, "In loving memory of Christopher Reeve. He made us believe a man could fly." Later that season, the episode "Sacred" revealed Dr. Swann, too, had passed away, which caused Clark to wrestle deeply with the news. It's hard to think what might have been had Reeve been able to continue appearing on the series.
How Virgil Swann Impacted 'Smallville,' Even After Reeve's Death
But despite Christopher Reeve's death, he made a significant impact on Smallville as a whole. Aside from being the one who coined the term Krypton, which led to Clark referring to "meteor rocks" as Kryptonite, Swann is revealed to have been the founder of Veritas, a group of elites that consists of Lionel Luthor, Oliver Queen's (Justin Hartley) parents, Jason Teague's (Jensen Ackles) parents, and Swann himself. This group spent their lives searching for "the Traveler," an alien savior who would one day help bring the world out of darkness — at least until Lionel had the Queens murdered, and then disbanded. Dr. Swann's own daughter Patricia (Gina Holden) appears in Season 7 as an ally to Clark during the Veritas arc, only for her character to be suddenly killed off under the orders of Lex Luthor, who wanted the Traveler for himself. Of course, Clark is the Traveler, as Dr. Swann well knew, though he didn't disclose that information to any of the other Veritas members.
Behind the scenes, Reeve also impacted Smallville following his final appearance. In Season 3, a number of new PSAs for The Christopher & Dana Reeve Foundation aired after Season 5's "Aqua" (with O'Toole), Season 6's "Progeny" (with Lois Lane actress Erica Durance), and Season 7's "Cure" (with former Lois & Clark: The New Adventures of Superman star Dean Cain). The show always tried to honor our favorite Superman and Dr. Swann can even be glimpsed briefly during Clark's clip show in the series finale. Outside Smallville, Reeve returned to the DC Universe as the Man of Steel posthumously in 2023's The Flash, resurrected through the use of computer-generated imagery. While the ethics behind such a move are questionable at best and the results weren't exactly anything to write home about, it was neat to see Reeve's Superman one last time, finally united with his on-screen cousin Supergirl (Helen Slater, who likewise appeared on Smallville as Clark's biological mother Lara) as they watched the multiverse implode. However, even seeing him in the red cape and blue spandex again wasn't as exciting as his brief work on Smallville, officially passing the Superman torch onto its rightful successor.
Smallville can be streamed exclusively on Hulu.
Watch on Hulu
#Christopher #Reeve #Refuse #Leave #Set #Smallville