Why The Crown Season 6's Funeral Scene Cut Diana's Brother's Eulogy Explained By EP
Summary
According to producer Suzanne Mackie, the decision to exclude Charles Spencer's speech from Princess Diana's funeral in The Crown was a story choice.
Mackie says the speech was powerful and moving, but there wasn't enough room in the narrative to include it.
Mackie explains that it didn't necessarily support the themes of the episode.
The Crown's excision of one crucial moment from Princess Diana's funeral has been explained by the show's executive producer. The Netflix historical drama has tracked the life of Queen Elizabeth II over the course of six seasons that span from the Queen's youth to the turn of the millennium. Season 6, which recently premiered part 1 of 2, dramatizes the events surrounding the 1997 death of Princess Diana (Elizabeth Debicki), but did not include the speech given by her brother Charles Spencer at her funeral, which featured an admonition of the media frenzy around his late sister.
Variety recently spoke with executive producer Suzanne Mackie about The Crown season 6. Mackie explained that, while they were originally planning to include Charles Spencer's speech in the show, they opted to remove it from the narrative. The reason for this was the fact that "from a sheer story point of view, there wasn't room for it," as it didn't fit the theme of the show. Read Mackie's full quote below:
We did include it, and then we didn't. In the end, it was a story choice not to not to dramatize it. It didn't quite fit in with what we were trying to say. To be honest, it sort of feels like there's too much story. You have to choose what themes you're exploring. I was always fascinated by that speech. It's a beautiful speech, and it was very rousing and it was very, very moving. I remember watching it and being very moved by it, and its impact was very visceral. But just from a sheer story point of view, there wasn't room for it, though it was a profoundly important moment.
It Makes Sense That This Princess Diana Funeral Moment Was Cut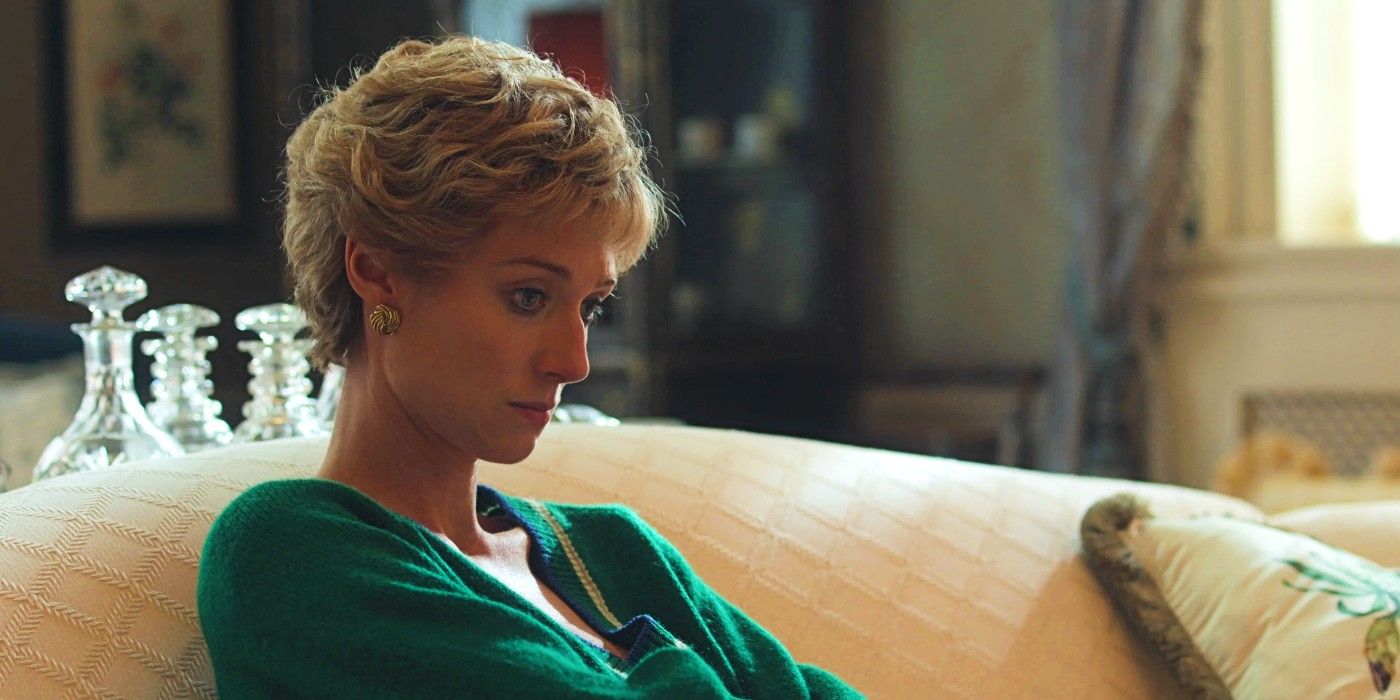 It is understandable why this particular element of the The Crown true story would have been excised. While the show endeavored to treat Princess Diana's death with respect and weight, it is ultimately the story of Queen Elizabeth II, not Diana. While Charles Spencer's speech is important to Diana's story, the focal point of the show must naturally be the Queen, who has been played at various ages over the years by Claire Foy, Olivia Colman, and Imelda Staunton.
Another aspect that likely influenced this decision is the fact that there has been a wide variety of media about Diana since her death. Recently, this has included the Oscar-nominated movie Spencer and the musical Diana (which was recorded and released on Netflix in addition to running on Broadway) as well as her portrayal as a The Crown character. While the speech given by Charles Spencer (played on the show by Philip Cumbus) is important, the wealth of projects about her life allows various creative teams somewhat more freedom to pick and choose elements of the Diana story.
Emma Corrin originally played Princess Diana in season 4 before being replaced by Elizabeth Debicki for seasons 5 and 6, which took place after a time jump.
Ultimately, including Charles' speech wouldn't have helped The Crown deliver on its mission statement. While Princess Diana's death rocked the royal family and is a major event that needed to be included, the details of the aftermath largely needed to be centered around Queen Elizabeth II's emotional journey. Charles' condemnation of the media didn't necessarily service that any better than other sequences that the show's writers did elect to include.
Source: Variety
The Crown

Release Date:

2016-11-04

Cast:

Claire Foy, Olivia Colman, Imelda Staunton, Matt Smith, Tobias Menzies, Jonathan Pryce, Vanessa Kirby, Helena Bonham Carter, Lesley Manville, Victoria Hamilton, Marion Bailey, Marcia Warren

Main Genre:

Biography

Genres:

Biography, Drama, History

Rating:

TV-MA

Seasons:

5

Summary:

This drama follows the political rivalries and romance of Queen Elizabeth II's reign and the events that shaped the second half of the 20th century.

As the 1970s are drawing to a close, Queen Elizabeth (Olivia Colman) and her family find themselves preoccupied with safeguarding the line of succession by securing an appropriate bride for Prince Charles (Josh O'Connor), who is still unmarried at 30. As the nation begins to feel the impact of divisive policies introduced by Britain's first female Prime Minister Margaret Thatcher (Gillian Anderson), tensions arise between her and the Queen which only grow worse as Thatcher leads the country into the Falklands War, generating conflict within the Commonwealth. While Charles' romance with a young Lady Diana Spencer (Emma Corrin) provides a much-needed fairytale to unite the British people, behind closed doors, the Royal family is becoming increasingly divided.

Website:

https://www.netflix.com/title/80025678

Cinematographer:

Stuart Howell, Adriano Goldman

Creator:

Peter Morgan

Distributor:

Netflix

Main Characters:

Peter Townsend, Prince Philip, Anthony Eden, Queen Elizabeth, Princess Diana, Queen Mary, Prince Charles, Princess Margaret

Producer:

Andy Stebbing, Martin Harrison, Michael Casey, Andrew Eaton, Oona O'Beirn, Faye Ward

Production Company:

Sony Pictures Television, Left Bank Pictures

Sfx Supervisor:

John Smith, Chris Stoaling

Writers:

Peter Morgan

Number of Episodes:

50
#Crown #Season #Funeral #Scene #Cut #Dianas #Brothers #Eulogy #Explained