Faux Toy Story BTS Video Imagines If The Characters Were On-Set During Filming
Summary
A creator shares a new video imaginging key Toy Story characters on a live-action set, filming in front of a green screen.
The animation style of Toy Story is an essential part of its charm, and a live-action adaptation may lose the franchise's whimsy and tone.
Lightyear opted for a new animation and art style in the telling of its story, and the reception to that film suggests that Toy Story's visual presentation is a big part of why the franchise remains so beloved.
Toy Story gets a mock behind-the-scene video imagining what it would look like if the animated characters were on a live-action set. Released in 1995, Toy Story remains one of the most beloved animated movies of all time, following a cowboy toy named Woody (Tom Hanks) as he butts heads with a new toy named Buzz Lightyear (Tim Allen) in a young boy's bedroom. The first film was a major success, leading to three direct sequels and a spinoff movie with Lightyear.
Now, as the wait continues for news regarding Toy Story 5, Duncan Evans on Instagram shares a video imagining what it would look like if various Toy Story characters filmed their scenes on a real, live-action set. Check out the video below:
The clever video features characters like Woody, Buzz, and Jessie filming their scenes on a green screen with a morph-suit-wearing motion capture performer standing in for Slinky Dog, Bullseye, and the other animal toys.
Would A Live-Action Toy Story Work?
Why Toy Story Is Better Off Sticking With Its Animation Style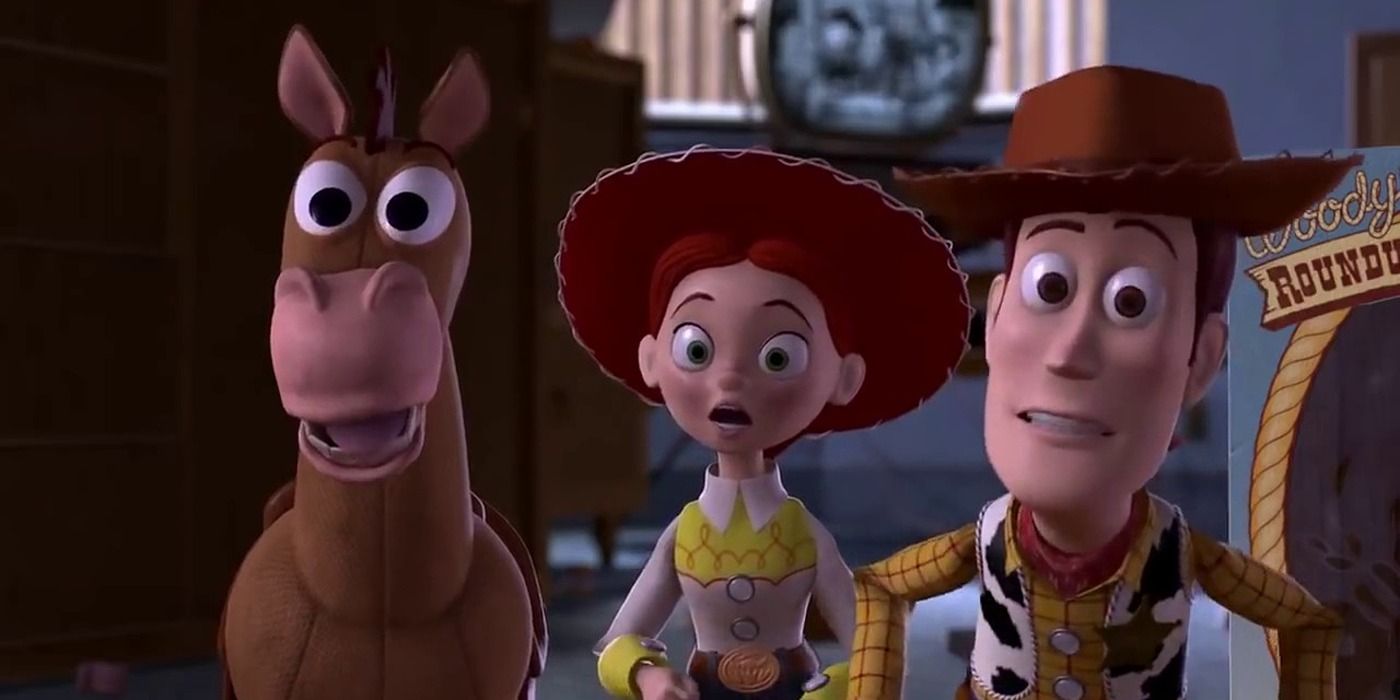 While the creative video above serves as a fun "What if?" for the franchise, it does raise interesting questions regarding whether a live-action Toy Story could work. The film's premise seemingly necessitates some form of animation to bring the toys to life, and a realistic form of CGI animation in the live-action style could theoretically be used to offer up a new take on the story.
Of course, it can't be discounted that Toy Story's animation is part of why the franchise remains so beloved. Characters like Woody, Buzz, and Jessie are rendered in a fun, stylized way, and creating them in more of a live-action style could see the figures lose some of their charm. Toy Story's animation and art style really go hand-in-hand here, and recreating the same story in a lifelike environment would feel a lot less whimsical and, by extension, less child-friendly.
While not live-action by any means, 2022's Lightyear attempted to expand the Toy Story universe with a new animation and art style, and that movie ended up being a box office disappointment. Lightyear's animation may not be responsible for the movie's underwhelming reception, but there's clearly something to be said for the fact that it lacked the visual signifiers that make a Toy Story movie feel like a Toy Story movie. With new installments in the core franchise continuing to dazzle audiences, it seems like the film series shouldn't attempt to fix what isn't broken.
Source: @curlykidlife/ Instagram
Toy Story

Release Date:

1995-11-22

Director:

John Lasseter

Cast:

Tom Hanks, Don Rickles, Annie Potts, Tim Allen, Jim Varney

Rating:

G

Runtime:

81 minutes

Main Genre:

Animation

Genres:

Animation, Adventure, Comedy, Family, Fantasy

Writers:

Joss Whedon, Alec Sokolow, Joel Cohen, Andrew Stanton

Summary:

A cowboy doll is profoundly threatened and jealous when a new spaceman figure supplants him as top toy in a boy's room.

Website:

https://toystory.disney.com/toy-story

Franchise:

Toy Story

Sequel:

Toy Story 2, Toy Story 4, Toy Story 3

Producer:

Ralph Guggenheim, Bonnie Arnold

Production Company:

Pixar Animation Studios, Walt Disney Pictures

Budget:

$30 million

Distributor :

Buena Vista Pictures

#Faux #Toy #Story #BTS #Video #Imagines #Characters #OnSet #Filming