Frasier's Heartbreaking Therapy Session Praised By Real-Life Therapist
Summary
Frasier's role as a therapist was a significant part of his life in Seattle, and his desire to help others balanced out his sometimes annoying persona.
The Frasier reboot should bring back the therapist aspect for the sake of storytelling, even if it doesn't revive his old radio persona.
Reflecting on Frasier's session with his mentor highlights his tendency to keep people at arm's length, which may be hindering his happiness. Being a therapist again could help him realize this.
A real therapist just applauds one of the most emotional scenes in the original Frasier show. Kelsey Grammer's Frasier Crane may not be doing a lot of therapy work in the Frasier reboot on Paramount+, but it was a big part of his life during his 11 years in Seattle. While Niles often poked fun at his stint as a radiotherapist, there were several ways that the NBC series was able to lean into this particular matter without Frasier doling out advice. Sometimes, it was the beloved elitist who needed some guidance as he also navigated his life.
During one of the most confusing times in Frasier's life, he reached out to his old Harvard mentor, Dr. William Tewksberry, who made him re-evaluate his perception of himself and his relationships. Licensed therapist Jonathan Decker from Cinema Therapy praises the whole sequence saying:
I love the breakthrough. "Why are you burying him in psychiatric exercises? Because it's all I have," and then he says "I'm sorry caller, I can't help you." You're trying to help people through your education. You're trying to help people through all your research and your psychiatric exercises, and you're not connecting with people in real life, including your self and that's why you feel empty.
Why The Reboot Needs To Bring Back Therapist Frasier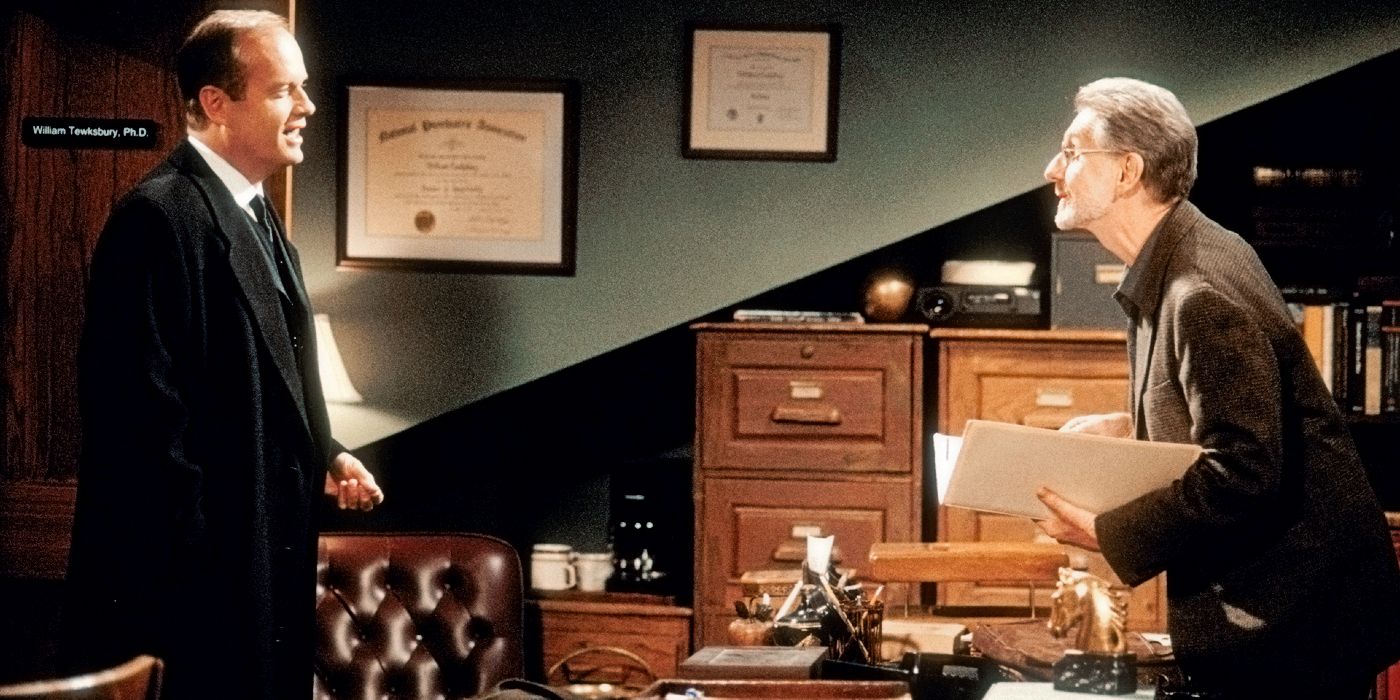 In the Frasier reboot, Frasier moves away from being a therapist after his less-than-ideal experience hosting Dr. Crane. He also doesn't dole out advice easily, which unexpectedly makes his new job as an educator at Harvard more difficult. While he's now at a different point in his life, it's imperative that the Frasier reboot brings back this aspect for the sake of its storytelling. As a character, Frasier can be annoying, but the old show was able to balance things out by highlighting his genuine desire to help others, which manifested in his stint as a radiotherapist.
This doesn't mean that Frasier needs to revive his old radio persona, but the Paramount+ endeavor can find ways to replicate the call-in element of the old show. That can be through the character dabbling in podcasting, which is essentially an updated version of what he was doing before in Seattle. Otherwise, he could stay at Harvard and open a therapy clinic where he helps students and even his fellow faculty deal with their personal issues. Without this aspect in the Frasier reboot, it is missing out on the best part of Grammer's character.
Related: The Frasier Reboot Episode 6 Proves It Has Fully Moved On From Martin & Niles
Looking back at his session with Tewksberry makes the character's current life more tragic. While the reboot hasn't revealed specifics of their split, it has been confirmed that Charlotte left Frasier after years of being together. The reason may lie in the character's tendency to keep people at arm's length, as pointed out by his mentor. Perhaps if he starts dabbling back into being a therapist in the Frasier revival, he finally realizes what hinders him from being truly happy.
Source: Cinema Therapy/YouTube
Frasier

Release Date:

1993-09-16

Cast:

Kelsey Grammer, Jane Leeves, David Hyde Pierce, Peri Gilpin, John Mahoney, Jack Cutmore-Scott, Anders Keith, Jess Salgueiro, Toks Olagundoye, Nicholas Lyndhurst

Genres:

Comedy

Rating:

TV-PG

Seasons:

11

Story By:

David Angell, Peter Casey, David Lee, Glen Charles, Les Charles

Writers:

David Angell, Peter Casey, David Lee

Network:

NBC

Streaming Service:

Paramount+

Directors:

David Lee, Kelsey Grammer, James Burrows, Pamela Fryman

Showrunner:

Christopher Lloyd, Chris Harris, Joe Cristalli
#Frasiers #Heartbreaking #Therapy #Session #Praised #RealLife #Therapist