Monitor stuck at 60Hz in Windows
If your monitor is stuck at 60Hz in Windows, then this post may help. Monitors with high-refresh rates offer a smoother and more responsive computing experience. But recently, some users have complained that their monitor is stuck at a resolution of 60Hz, and they can't increase it. Fortunately, you can follow some simple suggestions to fix the error.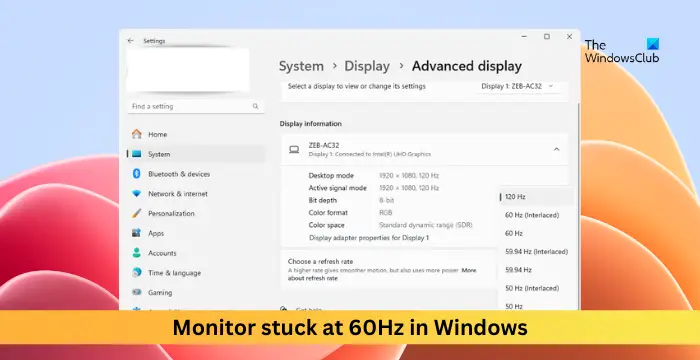 Why is my monitor stuck on 60 Hz?
If your monitor is stuck at 60Hz, it could be due to misconfigured settings and driver issues. However, there are several other reasons why this error may occur. Some of them are:
Device Compatibility
Application Interference
Damaged Cable or Loose Connection
How to fix Monitor stuck at 60Hz in Windows?
If you are unable to increase your device's refresh rate or if it's stuck to 60 Hz in Windows 11/10, follow these suggestions:
Check if your PC supports a Higher Refresh Rate
Update Graphics Drivers
Increase Refresh Rate via Advanced Display Settings
Try modifying the Refresh Rate in Safe Mode
Check Cable and Connections
Reset Monitor to Factory Settings
Now, let's see these in detail.
1] Check if your PC supports a Higher Refresh Rate
Start by checking if your monitor supports a refresh rate above 60 Hz. If your device isn't capable, you won't be able to increase or decrease the refresh rate. You can check this in the display settings or your device's user manual.
2] Update Graphics Drivers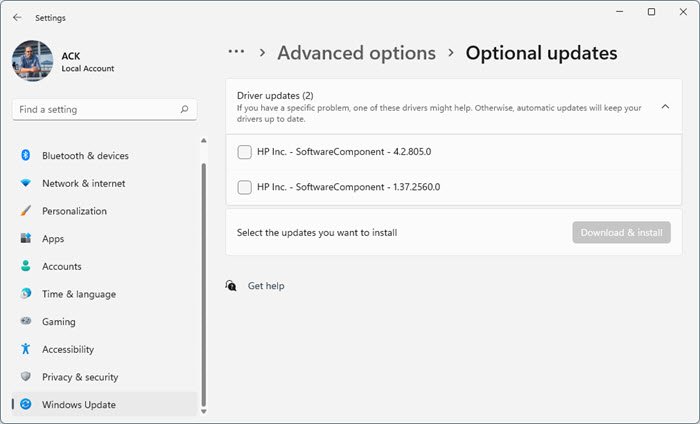 Outdated or corrupted graphics drivers can also be responsible for why your monitor is stuck at 60Hz in Windows. Update your device's Graphics drivers and check if the issue gets fixed. Here's how you can do it:
Open Settings and navigate to Update & Security > Windows Update.
Right under it, look for a clickable link—View optional updates.
Under Driver Updates, a list of updates will be available, which you can choose to install if you are facing an issue manually.
You can also search for driver downloads for your system on the internet and then search for the driver's name on the site. Visit your computer manufacturer's website, or you may visit the graphics hardware manufacturers' site.
3] Increase Refresh Rate via Advanced Display Settings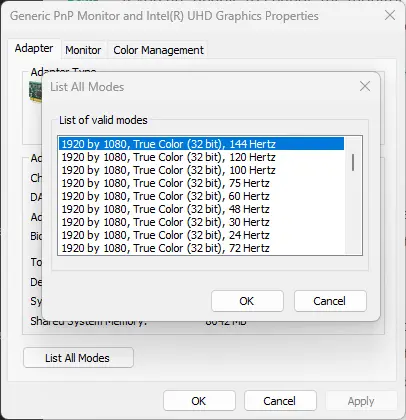 Another thing you can try is increasing the refresh rate via the advanced display settings. Here's how:
Press the Windows key + I to open Settings.
Navigate to System > Display > Advanced Display.
Click on the clickable link – Display adapter properties for Display 1.
The properties dialog will now open here; click on List all modes and select your desired mode.
Click on OK to save the changes.
4] Try modifying the Refresh Rate in Safe Mode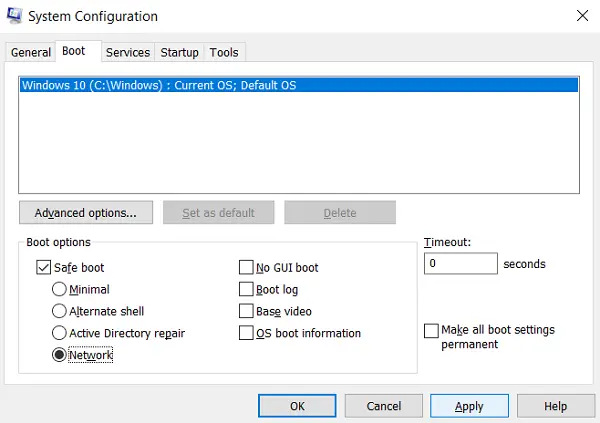 Boot your computer in Safe Mode to ensure your operating system loads with minimal system files and device drivers. No programs or add-ons run in Safe Mode.
If the monitor is still stuck at 60Hz, open the Task Manager and check which services and startup programs are loading. Disable or uninstall these, as one of them may be causing the error.
5] Check Cable and Connections
Check the Display Port or the HDMI cable if using an external monitor. The cable may be damaged, or the connection is loose, causing the error. Replace the cable and see if the error's fixed. Also, ensure your cable or port supports higher refresh rates.
6] Reset Monitor to Factory Settings
If the cable and connection are good, reset your monitor to its default factory settings. It's possible these settings are misconfigured, causing the error. You can do so by navigating through the monitor buttons.
Read: Refresh Rate changes automatically when unplugging the Charger
I hope these suggestions help you.
Is HDMI locked at 60Hz?
No, HDMI is not locked at 60Hz. The maximum refresh rate HDMI supports can vary on both the HDMI version and the specific capabilities of the devices. However, do note that it also depends on your display and the cable in use.
Why does my monitor keep resetting to 60Hz?
If your monitor keeps resetting to 60 Hz, check Windows Display and Graphics Control Panel settings. If that doesn't help, update the graphics drivers and try increasing the refresh rate in safe mode. However, before doing any of these, check your device and monitor capabilities, i.e., if they support a higher refresh rate.
#Monitor #stuck #60Hz #Windows