9 Best PowerPoint add-ins for Consultants
If you work as a consultant at any company and you often need to make PowerPoint presentations, here is some help for you. Here are some of the best PowerPoint add-ins for consultants so that you can create engaging slides with ease and in minimum time.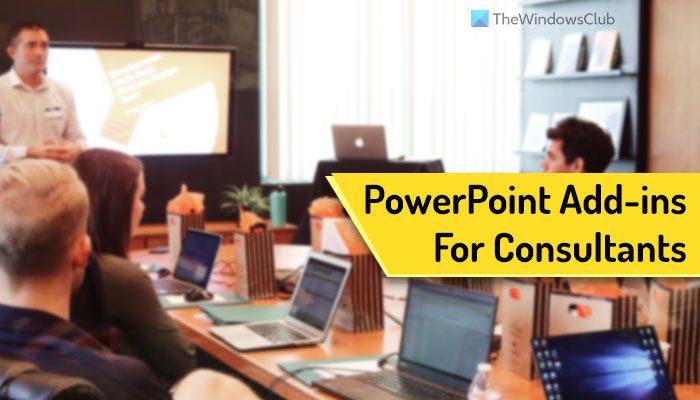 In case you don't know how to install or add add-ins in PowerPoint, you can go through this detailed guide. Also, you must understand that these add-ins can be installed in PowerPoint at no cost. However, you might need a valid subscription to the respective service to connect your account to PowerPoint.
9 Best PowerPoint add-ins for Consultants
The best PowerPoint add-ins for consultants are:
Pixabay
Date and Time
Templafy
ie for Office
Script Lab
Mentimeter
ExploreTheData
Poll Everywhere Presenter
IconScout
To learn more about these add-ins, continue reading.
1] Pixabay
Images are as important as words when you need to demonstrate something quickly. Instead of looking for an image on Google, you can use this add-in. For your information, Pixabay is one of the best free stock photography sources. However, if you have a paid subscription, you can always check out Shutterstock Images.
Read: How to add & use Pickit Free Images add-in to Office apps
2] Date and Time
At times, you might need to insert the current date and time in various slides multiple times. If so, the Date and Time add-in is one of the best options you can use. All you need to do is click on the Set Date and Time button to get the job done.
3] Templafy
If your company has a set of templates that you must use all the time, Templafy is a suitable add-in that you can use to obtain those templates. There is no need to save the templates elsewhere as long as your company has an active subscription to Templafy. The best thing is that you can access them from anywhere.
Read: How to search for Online Templates and Themes in PowerPoint
4] harmon.ie for Office
If you often need to save documents to Microsoft 365 apps, hermon.ie has one of the best solutions for you. You can install this add-in and save your Office documents elsewhere so that other people can join and access them without any additional permission. No matter whether it is Word, Excel, PowerPoint, or any other file, you can have the same thing.
5] Script Lab
If you need to show and execute a script during a presentation, Script Lab can do the job for you. Instead of switching from the presentation to another app, you can use Script Lab to get the job done. It uses Office JavaScript API so that you do not need to leave the current application.
6] Mentimeter
There could be times when you might need to collect information from the viewers. In order to make the meeting more interactive, you can always opt for Mentimeter. It helps you gather real-time data in your PowerPoint presentation so that you can make the necessary changes swiftly.
7] ExploreTheData
In many meetings, the consultant needs to show various kinds of data to improve the company's performance. If so, you can use the ExploreTheData add-in, which not only displays the data but also transforms them into visual graphics. No matter how large your dataset is, you can certainly use this add-in.
8] Poll Everywhere Presenter
If you often add polls to know what your company members think about something or some product, Poll Everywhere Presenter can be handy for you. As the name suggests, it lets you add polls to your slides. The best thing is that other people can answer them via SMS or the web.
9] IconScout
Even in a company meeting presentation, you must make an interesting slide so that other people listen to you minutely. In order to make that happen, you can always use real-time data, images, unique icons, etc. If that is the case, you can check out IconScout. It helps you add icons, illustrations, 3D assets, animated graphics, etc.
That's all!
Read: How to create a Mind Map in PowerPoint
What is the best PowerPoint add-in for consulting?
Some of the best PowerPoint add-ins for consulting purposes are mentioned in this article. For example, you can check out Script Lab, ExploreTheData, Mentimeter, Web Video Player, Templafy, etc. For your information, all of these add-ins are available for free on the official repository.
What PowerPoint tools do consultants use?
It entirely depends on the type of consultation. However, in most cases, consultants who need to create tons of presentations every week use some of the aforementioned add-ins. If you are a consultant at any company, you must decide what you want to do first. Then, you can opt for a suitable add-in or tool as per the requirements.
Read: How to use Copilot in PowerPoint.
#PowerPoint #addins #Consultants